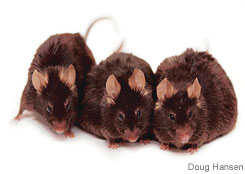 I can't get this resveratrol thing out of my head! And apparently others can't either as they are already popping pills according to this WaPo story. Remember, pop corks not pills!
I think I will write my first screenplay based on these lab mice living longer. Here it goes.
Strange Cru
Synopsis: Two wine lovers find a mouse in their bottle of wine and decide to go on an odyssey return it to the winery for a refund. After battling two teams of vicious hockey players, the duo arrive at the winery where the vintner (Max von Sydow) refuses to give them a refund. Through it all, the mouse refuses to die thanks to sheer force of will–and a high dose of resveratrol.
Related: "The Adventures of Bob & Doug McKenzie: Strange Brew" [IMDB]
tags: wine | resveratrol