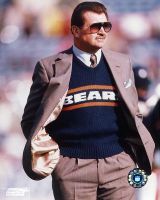 Read it and weep–former coach of the Chicago Bears, Mike Ditka, has a new wine called "Mike Ditka Kick Ass Red." [wire story]
Assuming that "kick ass" refers to the quality in the bottle and not an alcohol level higher than a Hail Mary, this is the first celebrity wine I've ever seen to include a direct testimony to quality on the label. In fact, it even trumps the need to talk about grape varieties! Hmm, $50 a bottle…I guess it's not for tailgate parties.
UPDATE: the wine is a blend of zinfandel, syrah, petite sirah so it will have heft. A pinot grigio and chardonnay are also planned. No word on whether those are kick ass.
tags: wine | mike ditka | football