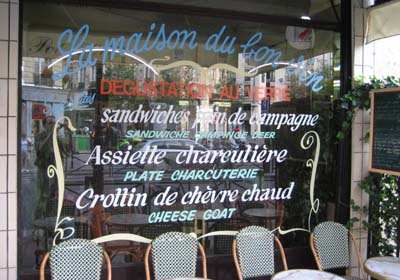 The Parisians are getting natural. And I'm not talking about life on the Paris plage, the beaches that the current mayor put in a few summers ago, where topless sunbathing is prohibited. I'm talking about wine bars that are au naturel.
I read about the trend in Alice Feiring's NYT story. I had to check some of them out for myself.
First stop, Aux Tonneaux aux Halles. On a non-touristy pedestrian street off of Les Halles, the owner was there pouring wine behind the bar. He buys the dozen or so wines available by the glass directly from the producers. Many of the wines are made without the addition of sulfites, some are made biodynamically, and they all taste distinctive. Be sure to try the excellent goat cheese. And the Morgon vielles vignes 2003 from G. Descombes.
Near the Chatelet metro, is Bistro Les Halles. No, Tony Bourdain is not the chef. But you can have a quick lunch at this olde tyme bistro–though it pays to arrive early to beat the rush. I love the Frenglish translation on the window (pictured above). Wines by the glass are between two and five euros.
Heading to the Latin Quarter, La Cremerie, mentioned in the NYT story has changed hands as of September 1. Pierre Jancou who had presided over the huge slab counter in the tiny wine shop/bar for four years decided to move to Germany and import the wines that he had been pouring in the sixth arrondissement. But he would only sell the shop to a like-minded owner so at least this space won't become a fashion boutique.
Le Comptoir du Relais in the sixth is bigger and swankier than La Cremerie–indeed, swankier than most of the natural wine bars. With a more extensive menu, this spot in the hotel Relais St. Germain looks great. Pity I only had time to walk by it on this trip. Next time, a meal…
I also posted previously about the natural wines at Fish, a restaurant that also has a bar friendly enough to rival Cheers. As well as the 100 bottles of wine on the wall at La Muse Vin.
Anyway, just a few scribbles. Feel free to post your notes about your favorite wine bars among the new naturalistas.
Aux Tonneaux des Halles: 28, rue Montorgueil 75001
Le Bistro des Halles: 15, rue des Halles 75001
La Cremerie: 9 rue des Quatre-Vents 75006
Le Comptoir du Relais: 5, Carrefour de l'Odeon 75006
Fish: 69, rue de Seine 75006
La Muse Vin: 101, rue de Charonne 75011