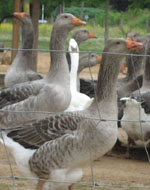 Chicago's ban on foie gras sales in stores and restaurants went into effect yesterday. On Monday, 676 Restaurant and Bar at the Omni Chicago had an "outlaw dinner," which included foie gras along with absinthe and hemp seeds, and duck breast sous-vide, a preparation that is currently experiencing a moratorium in NYC. Apparently at least one restaurant in bordering Oak Park is offering a foie gras getaway dinner.
But is the ban really going into effect? Three items for your consideration:
1) Allen Sternweiler of Allen's The New American Café will file suit against the ban.
2) Didier Durand of Cyrano's will practice civil disobedience by giving away the foie gras for free and then charging for the garnishes and wine that go with it.
3) The enforcement mechanism of the ban is citizen's arrest!! "Alderman Moore says the mayor's office will decide how this law is ultimately enforced, and they will likely rely on citizen complaints." [CBS2chicago]
Related:
I suppressed my gag reflex and visited a foie gras goose farm