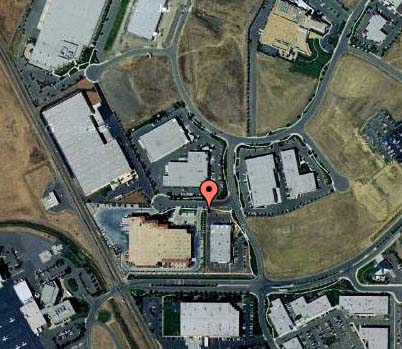 Fred Franzia, maker of the high-volume Two Buck Chuck, announced his new brand, Harlow Ridge two weeks ago. The above satellite image is of the inspiration for the name of the new wine–no, not the vineyard but rather the wine making, storage and distribution facility located in the industrial park near the Napa County airport (see planes in lower left of the image; click here for the original map). The address? 33 Harlow Court, Napa, CA 94558.
The man clearly has a sense of humor among other attributes. Banned from using the name Napa Ridge for wines made not from Napa grapes when the Supreme Court refused to hear his appeal in January, Franzia said he can build this brand in six months. And he'll be free to use grapes from wherever he wants, which in this case will be Lodi. Coming from a man who said that "no bottle of wine is worth more than $10," this new wine will be at the high end $8.99.
Related: A recent posting here that also used a satellite image, in this case of the Haut-Brion vineyard struggling against urban spawl, has been named a FoodandWine.com top blog post of the week. Rock on!
tags: wine | Napa | Fred Franzia | satellite images