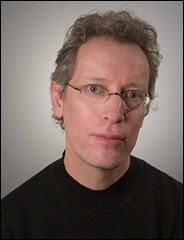 There's a new wine blogger in town and his name is Eric. By day, he writes about wine–for The New York Times! Yes, this new blogger is none other than wine columnist Eric Asimov and his blog is called The Pour. Wine blogging has hit the mainstream.
He promises a tasting note-free blog, writing mostly about the broader issues of wine –I'm all in favor of that. He also promises more personal details:
Along the way, you may meet some of the people I enjoy drinking with –— my family, of course, and friends like the Grand Crew, my martial arts food and wine group, which gathers regularly to eat, drink, cook and talk (more about them soon enough).
So check out the blog. I think it will be a great medium for him and there's even space for comments. "Pour" Eric though since now he will have even more demands on his spare time. But will he be blogging in his pajamas like the rest of us?
tags: wine | wine blogs