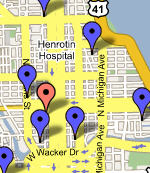 While not much wine is made in Illinois, lots of wine is consumed in Chicago. Thanks to one of the most competitive markets in the country, Chicago wine consumers enjoy low prices and a broad selection of imported and domestic wines.
I have put together an interactive map of Chicago wine shops to explore the variety of shops available. The informative pushpins provide brief descriptions of the shops as well as their hours, contact info and links to their web sites. You can view it on a map, satellite view or a hybrid–complete with driving directions to each store! Check it out and find a shop near you!
Thanks to the reference site googlemapsmania. Inspiration for all interested in mapping!
tags: wine | wine chicago | wine shops | Googlemaps | mashups