Long Island wines may be America's best kept wine secret. Or they might be America's most overrated and overpriced regional wine east of the Rockies. This fall, you can decide for yourself either by visiting in person this scenic countryside or by having the wines shipped to you out of state for the first time thanks to recent legal changes in direct wine shipping. By special arrangement, Lenn Thompson, an expert on Long Island wines, compiles three itineraries and notes on the best wineries and their wines. –Dr. Vino
Great Route 48 — Exploring the Northern Route in Long Island Wine Country
Wineries in New York State crank out about 200 million bottles of wine every year, making it the nation's third-largest wine producer behind California and Washington. And while producers in the Finger Lakes and Hudson Valley regions have longer histories of making wine, it's the wines of Long Island that many feel hold the most promise.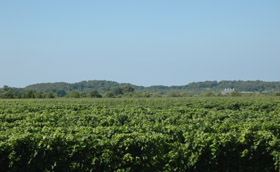 Long Island is relative newcomer as a wine region with the first commercial vines planted in 1973 (see a map of LI wineries). New winemakers are popping up almost every year and the few long-standing wineries are starting to hit their strides. The region's well-drained soil and climate tempered by Long Island Sound, Peconic Bay and the Atlantic Ocean, it is ideal for growing vinifera grapes and making refined, balanced wine.
Bordeaux serves as a reference point for the grape varietals, particularly for the reds with cabernet sauvignon, cabernet franc and particularly merlot in abundance. There is a movement afoot to really focus on merlot and position Long Island as "merlot country" much the same way that Oregon used to push pinot noir. Many wineries have already invested heavily in the vines, which may explain why they're keen on it – or maybe it is just an act of defiance against the popular movie "Sideways" (where the lead character humorously trashed merlot).
On the white side of wine, chardonnay is the most planted variety and it's made in a variety of styles, as well as used for blending. But, there's also some increasingly good sauvignon blanc being made too. The style is less fruity/tropical than California versions, but less aggressively herbal and grassy than New Zealand bottling. They can be thought of as the best of CA and NZ together with hints of Graves minerality and definitely thirst-quenchingly drinkable. There's also riesling, pinot noir, some syrah, malbec, petit verdot and (on the South Fork) some other diverse varieties that we'll explore in a future story.
Post-Labor Day is a great time to visit. Not only have the summer crowds subsided but the harvest enters full swing grapes as well as pumpkins. The scene is very picturesque and winery tasting rooms are filled with the enticing aroma of just-picked grapes as they are pressed and then fermented.
Long Island wine country is divided into three unofficial wine trails. The Hamptons on the South Fork and Route 25 and Route 48 on the North Fork. To help you get the most out of your foray into Long Island wine country, I'm writing a three-part series, which each focusing on one of Long Island's wine trails. We begin with the northernmost trail, Route 48.
Route 48, which is also known locally as North Road, is sometimes a forgotten wine trail. While Route 25 (just a block south) runs right through the North Fork's many quaint villages, and right by some of Long Island's most revered, not to mention well-marketed, producers, Route 48 a decidedly different flavor than the other two trails, with its bucolic, rural feel.
There are nine tasting rooms sprinkled along 13 miles of Route 48, with the must-stops being (from west to east):
Roanoke Vineyards. Owned by Richard and Soraya Pisacano, Roanoke Vineyards is one of the Island's newest producers. Rich is the vineyard manager at Wolffer Estate Vineyards (on the South Fork) and has been working with vines since high school. The wines are made at Wolffer by winemaker Roman Roth and you can also sample the wines of Atwater Estate in the Finger Lakes, which are made by former Roth assistant Vincent Aliperti. Wolffer Estate wines are also available.
Must-taste Wines: Roanoke Vineyards 2000 Merlot, Roanoke Vineyards 2003 Cabernet Sauvignon, Atwater Estate Vineyards 2004 Dry Riesling
Macari Vineyards & Winery. Stop at Macari to enjoy your picnic lunch on their beautiful deck, which offers some of the East Coast's best vineyard views. The wines are made by Austrian Helmut Gangl and Paola Valverde a native of Chile. It's also a favorite spot for wedding receptions or other affairs.
Must-taste Wines: Macari Vineyards Block E 2003 Ice Wine, Macari Vineyards 2005 Early Wine (late fall release), Macari Vineyards 2001 Bergen Road (a merlot-heavy blend)
Lieb Family Cellars. Russell Hearn produces Lieb Family Cellars' wines at The Premium Wine Group, a custom-crush facility located in Mattituck, NY, that he is part owner of. Their small tasting room is located in a building adjoining the winemaking facility. Lieb is well-known for making some of the best pinot blanc this side of Alsace.
Must-taste Wines: Lieb Cellars 2001 Blanc de Blanc (sparkling pinot blanc), Lieb Cellars 2003 Pinot Blanc, Bridge Lane Chardonnay (their 2nd-label), Lieb Cellars 2002 Merlot Reserve
Shinn Estate Vineyards. Shinn Estate Vineyards is owned by David Page and Barabara Shinn, who also own the cozy Home restaurant in Manhattan's West Village, where David is executive chef. Technically it's on Oregon Road a block north of Route 48, but go on a weekend take you on a tour of their vines and learn about sustainable grape farming and the organic and biodynamic techniques they employ in the vineyard. The wines are made by Roman Roth.
Must-taste Wines: Shinn Estate Merlot Vineyards 2003, Shinn Estate Vineyards 2002 Six Barrel Merlot
Castello di Borghese. Formerly Hargrave Vineyards (Long Island's first), Castello di Borghese was purchased by Marco and Ann Marie Borghese in 1999. Since then, they've expanded the vineyard and hired Stan Schumacher as winemaker. With vines that date back over thirty years, CdB offers wines that are as close to "old vines" as one can find on Long Island. This is truly the birthplace of the Long Island wine industry.
Must-taste Wines: Castello di Borghese 2004 Founder's Field Reserve Sauvignon Blanc, Castello di Borghese 2002 Reserve Pinot Noir, Castello di Borghese Novello (a Beaujolais noveau-style red released in the spring)
Waters Crest Winery. One of the area's smallest producers, home winemaker turned professional winemaker and winery owner Jim Waters' wines are far from minuscule. Charming and engaging, you're virtually guaranteed to meet Jim and his wife Linda in the tasting room where they pour wines and share their story. They'll even take you in the back and show you their whole operation, from crusher to stacks of French oak barrels.
Must-taste Wines: Waters Crest Winery 2003 Cabernet Franc, Waters Crest Winery 2004 Private Reserve Chardonnay, Waters Crest Winery 2004 Gewurztraminer
If this sounds like plenty for this leg of your trip, then here are a few B&Bs to rest until we hit Route 25 together. Stay tuned!
– Ellis House
– Harvest Inn
– Homeport