Crisp, racy whites
Simonsig, Chenin Blanc. 2004 $8.99 Find this wine
The rapid pace of change in the South African wine industry means that the country's wines are a blend between old and new. Chenin blanc, for example, has been grown for centuries in the country and marketed under the name "steen" but has only recently been rebranded as Chenin
blanc. This Simonsig Chenin blanc is much more full flavored and lush than the traditional Loire style, but it still has that crisp acidity that makes it an excellent summer quaffer. Since the transition to democracy and the re-opening of the export markets a decade ago, Simonsig has worked to increase the quality of this wine and it certainly is apparent in the wine's delicious fruit. (28,000 cases made; imported by Quintessential, Napa, CA)
Domaine des Cassagnoles, vdp Gascogny, 2003, $8. Find this wine
This bargain white is likely to become a summer staple around the Dr. Vino headquarters. Gascogny produces many great, rustic wines.
Winemaker and owner Gilles Baumann uses only fruit from his estate in this blend of three grapes that don't grab the headlines (Colombard,
Ugni Blanc, and Gros Manseng). This crisp and refreshing white should be in everyone's picnic basket as it matches well with warm weather
and lighter fare such as salads or sandwiches. Beat the exchange rate with this bargain! Importer: Weygandt-Metzler.
Dry rosés
Crios, rose, Mendoza, 2004. $9.99 Find this wine
The Malbec is fast on its way to becoming Argentina's signature grape. The big, brawny red makes a great accompaniment to grilled meats, abundant in the Argentina. But it is rare that
Check out the extended profile of Susana Balbo in The Real Wine World
Malbec makes a rosé. Bleeding this wine off of her old-vine Malbec, Susana Balbo has crafted a serious rosé, dark in color, that would help the most devout red wine drinkers transition to summer. The wine is excellent with grilled calamari—in fact, anything grilled—and particularly great when consumed outdoors! Importer: Vine Connections.
Jean Luc Colombo, rose de Cote Bleue, 2004, $9.99 Find this wine
Summer is a great time to drink pink. It reached 90F (32 C) this week on the Dr. Vino deck and in that kind of heat it's hard to drink red. So we often think red and drink pink in the heat of summer. Jean-Luc Colombo (who grew up in Provence but now makes most of his wines in the northern Rhone) has rehabilitated this Cote Bleue domain on the hills near Marseilles to make some quite savory rosés. This wine was one of two that struck me as being at the sweet spot in terms of value at a recent Provence rosé tasting. This Rosé de Côte Bleue is a blend of Syrah, Mourvedre and Counoise grapes, all hand-picked and goes great with salads and grilled white fish—under the shade of an umbrella of course! Importer: Palm Bay Imports (Syosset, NY).
Medium-bodied reds
Cuvée de Peña, vdp Pyrenées-Orientales,
2003, $8. Find this wine
The label says Peña and the synthetic cork says Pène
(but the name could also be the Catalan "Penya")—call it what you will, this wine is an excellent bargain. A balanced, medium-bodied blend of Syrah, Grenache and Mourvedre, this un-oaked and unfiltered wine from near Perpignan goes well with grilled meats. The hot 2003 vintage makes it clock in at 13.9% alcohol but it is silky smooth nonetheless. Buy this one by the case! Importer: Hand Picked Selections (Warrenton, VA).
Caparra & Siciliani, Ciro, Rosso Classico,
2002 $11.99. Find this wine
Are you tired of big reds, high in alcohol? Then this Ciro from Calabria in the boot of Italy is for you. Weighing in at an old-fashioned
12.5% alcohol, this red is light in color but that doesn't shortchange the flavors of this 100% Gaglioppo. Soft tannins and a light acidity
complement the hint of red berries that make it an excellent and balanced food wine. In fact, I thought of the title of David Rosengarten and Josh Wesson's Red Wine with Fish as some pan seared halibut would be a great accompaniment to this wine. Importer: Gregory Smolik (S Cubed Selection, Maverick Wine Co., Chicago).
Big reds
Cortes de cima, Chaminé, Vidigueira, 2002. $10.99. Find this wine
Portugal has long been known for Port but the quality of its table wines has been steadily improving over the last decade. There are many compelling examples made from indigenous grapes such as the Touriga, but this one has the unusual combination of blending Tempranillo (which has greater renown in Spain) and Syrah from Alentejo, in the south of Portugal. The result is a silky smooth and full bodied red with rich dark color and unctuous flavors, including notes of plum. The Jorgensen family owns and operates these vineyards using sustainable agriculture.
Importer: Tri-Vin (Mt. Vernon, NY).
Elsa, Barbera, (San Rafael). 2003. $7 Find this wine

Barbera from Argentina? Yes, this classic grape of Piedmont has successfully relocated to the San Rafael district in southern Mendoza. Velvety smooth, with notes of strawberry and cherry and little of the acidity typical of Barberas, this new world interpretation of the old world grape is an excellent value. The single vineyard for this wine lies 2500 feet above sea level and the Bianchis practice sustainable agriculture and harvest the grapes by hand. If this is what Barbera can do in Argentina, Malbec should be shaking in its boots! Importer: Quintessential, LLC. (4,000 cases produced).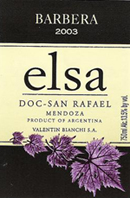 Chateau la Baronne, Corbieres, 2001, $9.99
If you have a hankering for the blends of Syrah, Grenache and Mourvedre from the south of France but have seen the prices rise above $10, then consider this wine currency relief. The 60% Carignan takes away the heft of Syrah and makes it a perfect transitional red for spring weather, lighter in color but full of spice, dark fruits and garrigue from the Corbieres in Languedoc. Hand harvested from a vineyard that practices sustainable agriculture and bottled unfined and unfiltered, this is one good red baronne. Importer: Louis/Dressner.
Ramon Cardova, Rioja, 2003 $11 Find this wine
Noah, Tevel, Judean Hills, 2002 (or 5762 in the Hebrew calendar). $14
About a decade ago Robert Parker reviewed a Spanish white lavishing praise in his prose and calling it "the best white wine
from Spain I have ever had." Score: 88 points. I had similar feelings about these two kosher wines, which were both very good for Passover but I might not run to get them the rest of the year. However, those Passover-observing wine geeks who can't bear the sight of Manischewitz ever again can rejoice that the quality of kosher wines has risen to the level on display here. The Ramon Cardova is a competent Tempranillo with traditional dark fruits, oak influence and soft tannins (importer: Royal Wine Corp). The Noah comes from the Judean Hills outside of Jerusalem and is a 60-40 blend of Cab and Merlot (importer Abaranel Wine Co). It is robust and full bodied despite being "mevushal," a boiling process which previously meant something like "death to quality." Advances in winemaking now mean simply that this wine can remain kosher even when served by non-Jews. L'Chaim! For more on kosher, click here.

Beyond the grade (but worth it):
Maison Bouachon, Vacqueyras, 2003. $18 Find this wine
Verget, Saint-Veran, "Terres Noires," 2001. $18 Find this wine
Dehlinger, Syrah, reserve, 1997. $?? Find this wine