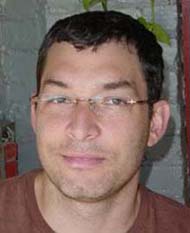 Gregory Smolik has taken the plunge. In January 2004, at age 36, he left Sam's Wines and Spirits, the large Chicago wine retailer, and went off on his own to import artisanal wines from Italy. He's still in the start-up phase of his new life as a wine importer but his chances of success are good given his background, his philosophy, and ultimately, his wines. In the year ahead, Greg aims to add more producers and more US states that carry his wines.
During his six years as Italian wine buyer at Sam's Greg presided over one of the largest selections of Italian wine under one roof. Sam's had one 25,000 square foot store on the north side of Chicago with about 9,500 different wines in stock when Greg left (they have added a suburban location since then), so this is no corner shop. Greg built the Italian wine portfolio from 350 wines to about 2000 through several buying trips to Italy.
Greg was most excited about introducing new wines to consumers. He found many small scale producers in Italy, arranged to have them imported and sold at Sam's. Some of these wines are no longer around but others have grown to multi-million dollars in sales.
Having visited numerous wineries, talked with hundreds of producers and sold wine to legions of customers, the transition to importer was an easy one. Greg knew what kind of wines he wanted to have in his portfolio and what kinds of labels would appeal to American consumers. "I didn't want to have corporate wine that says 'made in Italy' but could really have been made anywhere. I care about where wine comes from, not a tank or a barrel. I have a story to tell and there's a lot of passion behind that story," Greg told me on the phone last week.
Fans of the big and oaky wines known as "super Tuscans" will be disappointed as rustic authenticity best summarizes what Greg looks for in a wine. He only works with family-run wineries in four regions of Italy: Lombardy, Campania, Basilicata, and Calabria. One of his producers, Cabanon is biodynamic. "I seek wines with the least amount of altering of the grape and the soil." He describes his wines as "clean but expressive." The wines in his portfolio retail in the $7 -$25 price range. Amazingly, he imports only about 1,200 cases of wine a year from four producers, but is looking to scale up.
An amateur musician, Greg also says that he is artistic and enjoys designing labels. But the bureaucratic side can be frustrating, as label approvals from the government authorities can take months. "I'm just starting out and can't afford lawyers to rush them through," he laments. "Label approval alone gives me gray hair."
His wines are mainly available in Chicago, but he has recently picked up distribution in Nevada and Wisconsin. (Greg sells his wines to distributors who then sell them to retailers. His Illinois distributor, Maverick, has provided financial backing for him as well as a sales team.) Given his view that Chicago is "the most competitive wine market in the country," he has cut his teeth on the hardest location and laid a good base for his expansion. He plans to add a dozen states over the next year including New York, Florida and Texas.
He is a passionate cook and the only thing he likes better than finding the right wine is finding the right food. The crisp white Falanghina paired with greens sautéed in garlic and olive oil, the fruity red Aglianico with the salt of veal—these are pairings that elevate the food and the wine, and drive him to keep finding good wines.
His wines have appeared not only in the leading shops in Chicago but also in some leading restaurants. Alinea, a cutting-edge new restaurant from chef Grant Achatz with a 25 course tasting menu, has included Greg's I Portali wine with the squab. "A perfect match," Greg declares with satisfaction.
In the next year, I look forward to seeing Greg in action, as he sells his wines, talking with him about logistics and labels, the financial side of the importing, and how he finds new producers for his portfolio. He's off to Sicily and Campania for a week so we'll check in with him when he gets back. Stay tuned!
What would you like to know about Greg? Send in your questions.
Greg currently has no website. That's something on his plate for the near future.
> 6/30: Question from Terry in New York
I am fascinated with Greg Smolik's venture, as I am now writing for the Italian wine blog Aristide and plan to help the owner of the blog do an English-language version based here in NYC. My main question for Greg (now): where does he think the US market for vitigni autoctoni (indigenous Italian varieties) will be in 5 years?
> 7/1: Greg's reply
(Great timing for this question) What's happening is a resurgence and/or a realization that good old fashioned wholesome quality can not only be attainable but that consumers are becoming more educated and particular in food AND wine especially in the U.S. where there is the drive to be authentic. Statistics prove that Americans love to travel especially to Italy and take as much of it in as they can, Appreciation for the culture, the uniqueness of the wines and confidence in themselves as far as pairing food and wine are all ways that can help me describe why I think indigenous wines will prosper in the next five years. I see indigenous or traditional flavors in wines catching up to all the great chefs who have been making food this way for some time, after all its not the presentation its the quality that goes into food and wine that makes someone come back, but I'm being wordy, I don't think these types of wines will double in the next five years due to the fact that there are just so many Italian wines out there also there are too many financially powerful, over-marketed wines that leave the market bloated but I do believe that they have certainly taken root and will prove themselves as people are understanding more and more about the nuances and the essence of tradition, culture and genuinity.