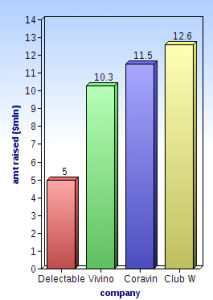 Club W, a wine club that sells private label wine directly to consumers, has raised $9.5 million in its latest round of funding. The company, led by CEO Xander Oxman, had previously raised $3.1 million in a seed round. The WSJ reports that Bessemer Venture Partners led this round; the previous round was led by Crosscut Ventures. The WSJ did not state the company's valuation at either round.
Part of the Club W pitch includes calling themselves a "global winery" that cuts out all the tiers of the wine biz, including winery, importer, wholesaler, and retailer to offer wines at about $13 each (three a month for $39). Wines have names such as "So this happened…" and "Alchymist noir red blend." Their web site does not state how they have cracked the perennial wine shipping nut though if the LA-based company is acting as a bonded winery and a licensed importer, the number of states they could ship to could run into the dozens.
In the recent wine venture capital beat, Club W has now soaked up the most funding. Coravin, which stuck its needle into the biotech community, is second. Vivino, the wine app based in Denmark, is running third. Silicon Valley's Delectable, which closed a $3 million round in May, is fourth.
Lot 18 raised the most venture capital for a wine business post-recession at $44 million. But the company has had layoffs and abandoned the "flash sale" model. In other private equity news, The Wine Advocate sold an controlling stake for reportedly $15 million in late 2012.