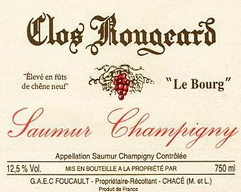 "Winery X, in family for generations, sold to billionaire" is a headline that would normally barely raise an eyebrow. But the winery in today's news is Clos Rougeard from the Loire.
Located in Saumur, Clos Rougeard is the Bentley of the Loire. The wines, almost all red, are expensive, rare and of exceptional quality–the kind of wines that can turn haters of cabernet franc into ambassadors. (search for Clos Rougeard at retail)
The 27-acre estate was owned by the Foucault brothers Bernard (a.k.a. Nady) and Jean-Louis (known as Charly). They were the eighth generation to run the estate and made it a pioneer of organic viticulture in the area as well as hands-off winemaking.
After Charly's death in 2015, La Revue de Vin de France reports, the family resolved to sell the domaine. The buyer is Martin Bouygues, French telecom billionaire and 481st richest person in the world.
In a way it is kind of surprising that a billionaire is attracted to the Loire, which is generally a region that favors low-key wines and hasn't attracted big fortunes to be tossed around since the day of Francois I. Perhaps that is changing? Doubtful. Clos Rougeard is arguably the pearl of the Loire, now snatched up as bauble for a billionaire. But at least he is discerning! And the estate doubtless cost less than one in Musigny. Bouygues owns Chateau Montrose in Bordeaux.
LARVF doesn't report on changes in the wine making.
UPDATE: Yes, another "Winery X sold to billionaire" story appeared today–at this rate, will there be any family-owned and operated top wineries by the end of the year?? Stan Kroenke, owner of Arsenal football club and the LA Rams and Screaming Eagle, is said to have bought a majority stake of Bonneau de Martray. [Decanter]