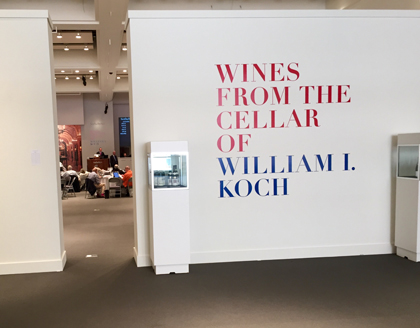 Billionaire and famed wine collector Bill Koch's wine cellar is up for auction at Sotheby's in a three-day sale happening now. Koch is selling about 20,000 bottles with an estimated range of $10-$15 million. But don't worry, he'll still have plenty to drink since he's only selling about half his famed collection.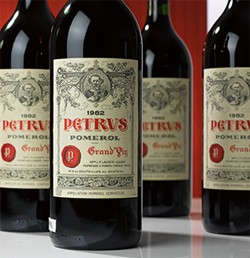 I attended the live auction at Sotheby's in New York yesterday. In the large auction room where numerous famed art pieces have sold, bidders turned out in person and online/phone to get a piece of the action. Jamie Ritchie, president of Sotheby's wine Americas and Asia, and Eli Rodriguez, vice president, called the 914 lots starting at 10 AM and continuing without interruption until bidders had a crack at them all. Even though the bidding took place in dollars, the current bid was displayed in no fewer than six currencies that ticked higher with each increment.
The most celebrated lot of the day was 10 bottles of 1945 Mouton Rothschild, which sold for $343,000 (including buyer's premium). To convert that into something other than the six currencies on the board, that's about the price of three Teslas, or $1,372 per ounce. Swirl that in your mouth for a minute–but please, don't spit.
Other notable wines yesterday included '59 Haut-Brion and '61 Palmer. There will be over 2700 lots during the three days; check out the lot listing online but the hard-bound, 500+ page catalogue is a work of art itself. Interestingly, the write-ups rely exclusively on Serena Sutcliffe's comments about the wines and eschew point ratings of any kind from any critic.
The cellar has tremendous breadth and, given Koch's litigious and crusading ways, bidders seemed to be enthusiastic, with many lots making a mockery of the estimates even in some of the lower-priced lots (yes, some Bordeaux lots sold in the $1,000 range). There's something for everyone: perhaps the lowest-priced lot yesterday was a 12-bottle case of Gibson, Barossa Vale Shiraz 2002 for $368 (including buyer's premium). And, yes, the wine comes under screw cap.