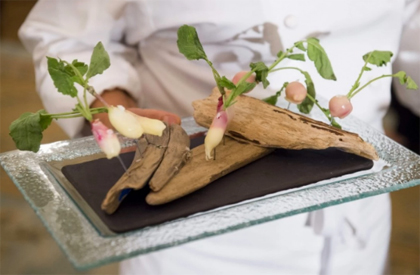 Tonight at the White House, President and Michelle Obama will welcome not one Nordic leader–but all five! What will they be drinking out of horned helmets in the viking style? Actually, it will be out of crystal glasses but we have the deets for you on the Nordic state dinner wines.
The dinner will honor leaders from Norway, Sweden, Finland, Denmark and Iceland. The weighty item of the summit is how to address an increasingly aggressive Russia ahead of a NATO summit in July. But on menu tonight will be an American cuisine with a Nordic twist: the dinner will be outside in a tent with a clear top to evoke the Northern Lights and in honor of new Nordic cuisine, guests will forage food on the White House grounds and gather their own root vegetables and ramps to bring back to the table. Ha! That would be awesome but they won't be doing the foraging themselves. Instead, local radishes will be served on pieces of wood from the back yard. There will also be chicken and waffles. The full menu follows below. See this piece from WaPo for a discussion of the menu. (And check out the episode on Magnus Nilsson from Netflix's "A Chef's Table" or David Chang's The Mind of a Chef with Noma's Rene Redzepi if you want to see the new Nordic cuisine in action.)
The wines include the Trisaetum Dry Riesling "Estates" 2014 from Oregon to start with Ahi tuna (about $38; find this wine at retail). Then guests will have the Grgich Hills Fume Blanc "Estate" 2013 with a vegetable dish (about $25; find this wine at retail). And the braised short ribs will come with a red blend (mostly merlot) from the newish Virginia winery, RdV and their "second wine" the largely sold-out "Rendezvous" 2010 (about $75; find this wine at retail).
While this lineup wins points for diversity (No chardonnay! Three states!), serving a wooded Sauvignon Blanc does make us pine for a some wikileaks from White House usher responsible for wine selections. Ah well, the Nordics are too gracious to say anything–and the prices paid will seem like bargains for anything from their wine monopoly stores.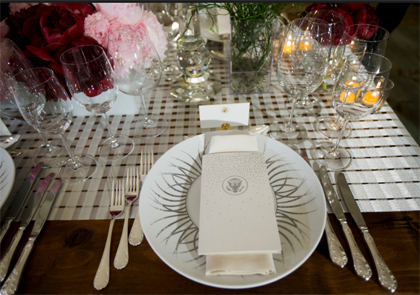 Canapés
Chicken and Waffles
Duroc Pork Belly with Granny Smith Apple Salad
Venison Tartare with Truffle Vinaigrette
Deviled Eggs with Ossetra Caviar
Langoustine Roll with Spiced Beets
Aquavit Seafood Cocktail
Baby Radish with Vermont Butter and Maldon Salt
Dinner
Salt-Cured Ahi Tuna with Pickled Young Radish and Watermelon Juniper Granite
Paired with Trisaetum Dry Riesling "Estates" 2014 (about $38; find this wine at retail)
Tomato Tartare with Cardamom Yogurt, Micro Lettuce and a Citrus Vinaigrette
Paired with Grgich Hills Fume Blanc "Estate" 2013 (abbout $25; find this wine at retail)
Red Wine Braised Short Ribs with Hot Kale Salad and Thyme Dumplings
Paired with RdV "Rendezvous" 2010 (about $75; find this wine at retail)
Dessert
Caramel Almond Mille-Feuille with Vanilla Bean Chantilly and Lingonberry Cream