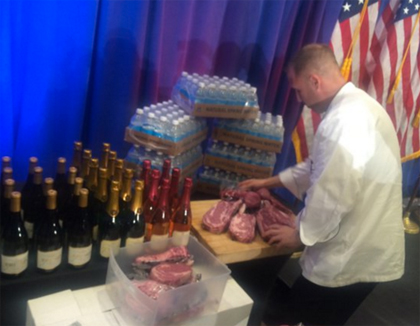 Last night after winning the Michigan primary, Donald Trump gave a press conference more worthy of QVC than C-SPAN: he had on display a variety of his Trump-branded products, including Trump steaks (free ginsu knife set?) to Trump Water and Trump Wine.
At one point, Trump, an avowed teetotaler, launched into a discussion about Trump Wine saying that it was the biggest winery in the East coast! And one of the biggest in America! Somehow, he stopped short of exclaiming that it's yuuuuge, but, as we all know, when it comes to bank accounts, hands, and polls, size matters with this fellow.
Let's fact check this! Trump bought Kluge Estate Winery and 776 acres of adjoining land near Charlottesville in 2011. At the time, twitterati derieded this wondering if he would rename the wine "comb-over cuvée." He then commented on the acquisition: "I'm really interested in good real estate, not so much in wine. This place had a $28 million mortgage on it, and I bought it for $6.2 million. It's a Trump deal!"
On the winery web site, they state that the estate today has 1,300 acres with 200 acres of vines planted to vinifera. The winery is 50,000 sf with 100,000 gallon tank capacity. the site size nothing about relative size but modestly states that they are proud to be among the 260 wineries in Virginia today. And hidden under the "Legal" tab, there's this nugget: "Trump Winery is a registered trade name of Eric Trump Wine Manufacturing LLC, which is not owned, managed or affiliated with Donald J. Trump, The Trump Organization or any of their affiliates." Oops.
To say that it's the largest winery on the East Coast is a bit like being the tallest in Lilliput: California makes 89% of American wine and some vineyards there, such as Fred Franzias, have tens of thousands of acres of vines planted.
And from a tourism perspective who would ever want to vineyard because it is the biggest? If that were the case, Modesto would be the epicenter of wine tourism, rather than places like Napa. Try googling "biggest vineyard in Finger Lakes" and you'll see how wine people don't care as much about size since the results are for the best wineries to visit. But for a real estate developer who doesn't drink wine, I guess you can see how quantity is more important than quality.
What do your stats tell you–does this claim hold up? Have you tried the wine? I see they have a "fortified chardonnay…"