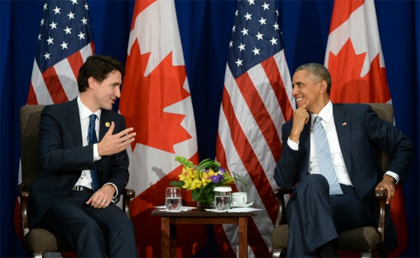 I had fun the other day when a new channel from Canada called. The reporter asked me which wines I would serve for tomorrow's state dinner at the White House in honor of PM Justin Trudeau, the first state visit of a Canadian prime minister in 20 years.
Without knowing the menu, I recorded a quick video hit about my selections, playing fictional sommelier for a day. Since the piece may not make it online, here were my selections (BREAKING: the official wines chosen for the dinner have now been released and they follow below):
Because Justin Trudeau is young (for a PM), hipster PM, it's a great time for the White House to highlight some younger wineries or hipper wines. The White House usher who presides over the selections, Daniel Shanks, is quite conservative in his picks, often squandering a chance to do something different, as I have pointed out previously. Now is the chance to be bold and do something different! To that end, and within the parameters of only serving domestic wines at the White House, and recognizing blowback about serving expensive wines that happened once before, I chose to have no Chardonnay or Cabernet. Forging new ground!
Here are my picks:
Ravines, "Argetsinger" vineyard, Riesling, 2013. (find this wine)
Riesling from the Finger Lakes has been getting better and better. It's a limestone's throw from Canada and would show respect to their own cooler climate wines. And this wine, the only one made from the steeply sloping Argetsinger vineyard, is impressive. And at $30, it's not budget busting either so the Department of Defense will still have money left over for $1,000 screw drivers.
Sandhi, Sandford & Benedict Pinot noir 2013 (find this wine)
Santa Barbara has been hopping lately. So why not celebrate that by selecting a newish wine from the region doing a great job? Raj Parr, born in Calcutta and now a US citizen, is a partner in this winery. Given Trudeau's welcoming stance to Syrian refugees and immigrants more generally, it seemed only appropriate to honor the vinous contributions of a first-generation immigrant here. The wine is beautifully structured and could do with some more aging but they will have to suffice with a decant at the State Dinner. Also, these vines were planted in 1971, Trudeau's birth year.
Copain, Syrah, Brosseau Vineyard, 2012 (find this wine)
This restrained, elegant syrah would do well at any dinner—state dinners included. Justin Trudeau had his own transformation from snow border and boxer to politician and prime minister. Wells Guthrie, wine maker and partner at Copain, had his own transformation, shifting from making big ass syrah to the current style that is more akin to the Northern Rhone. And the winery name is French, one of Canada's official languages. And it means "friend," something we will all need in Canada if Trump is elected!
***Oops, I guess there's supposed to be a sparkling wine. How about one from Under the Wire or Ultramarine?
Which wines would you choose?
The official wines will be:
Pence Chardonnay "Sebastiano" 2013 (find this wine)
Cliff Lede "High Fidelity" 2012 (find this wine)
Chateau Chantal, Ice Wine, 2013 (find this wine)