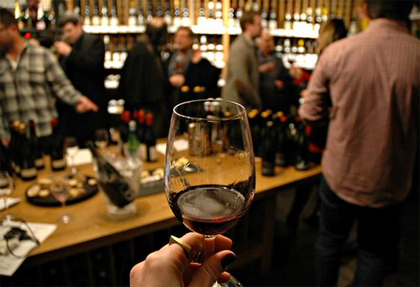 Flatiron Wines, a boutique wine shop in the shadow of the Flatiron building, will be opening a new location in San Francisco in January 2016. The shop is one of my favorite wine shops in the city. (Check out my post from when they opened in 2012.)
Jeff Patten, an owner, said that the new store will have the same focus as the Manhattan store, "just bigger." It will have in-store tastings, sell spirits, and stock a similar range of small-production wines from the US and abroad. Patten said that it will give them the opportunity to better serve their existing California clients as well as to attract new ones.
The new store will carry the same name, Flatiron Wines and will be in the Palace hotel at 2 New Montgomery Street. Beau Rapier, a manager from Manhattan, will be moving to SF to oversee the new store.
It's an interesting development. Mostly, when wine stores expand to other states, it is big box stores. But here's an independent shop going bicoastal. We'll have to keep an eye on their progress and see if any others get similar urges to look West–or California shops who might decide to look East.
Flatiron Wines
Manhattan: 929 Broadway (bet 21st and 22nd), New York, NY 10010. 212-477-1315
SF: 2 New Montgomery Street, San Francisco CA 94105 (opens January 2016)