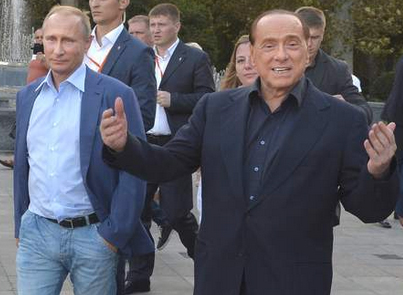 Today's installment of "Leaders and Liters," our series on world leaders and the wines they drink, features an unusual figure: Vladimir Putin, purported teetotaler. His partner in what seems like a buddy flick was none other than Silvio Berlusconi who is certainly no teetotaler, instead known for his bunga bunga parties.
Vlad and Silvio met up in the Crimea late last week and, among other sites, they toured the Massandra winery, which apparently houses a formidable collection of old bottles. After the cellar tour, Berlusconi asked the pro-Russian winery director if they could taste. The winery director then uncorked a 1775 sherry from Jerez de la Frontera, brought to the winery under the reign of Catherine the Great by Count Mikhail Vorontsov, a "wine-loving count served as governor-general of Crimea for more than two decades in the early 19th century." Wine geeks might say, after the tour, they hit the sack together!
The winery director now faces prosecution. "This is one of the five bottles that constitute not only Massandra's or Crimea's heritage, but the heritage of all Ukrainian people," the prosecutor was quoted as saying. He valued it at $90,000. But since Crimea is no longer part of Ukraine, it will be difficult to prosecute. Ukraine has also banned Berlusconi for three years.
In other news, a bottle from the 1891 vintage also went missing that day. Berlusconi was seen on Russian TV asking if he could try a bottle…Video after the jump.