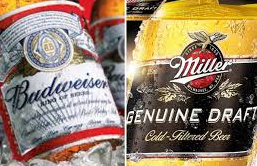 Have you heard–ABI may buy SAB? The resulting company, which could have an alphabet soup of a name, would be the biggest brewer in the world, combining the make of Stella and Budweiser (Belgium-based AB InBev) with the brewer of Miller and 200 other beers, including Peroni, Grolsch, and Pilsner Urquell.
The combined company (MegaBeer Corp?) would have an estimated market capitalization of $250 billion, putting it on par with GE. According to a terrifically detailed WSJ story on the rumored merger, AB InBev dominates 45% of the American beer market. Miller Coors, which is controlled by SAB Miller, takes another 25% of the market. If they were combined, they would control a lot of taps in bars across the country, possibly elbowing out smaller producers and turning bars into essentially branded bars, the equivalent of branded gas stations. But, since this could be construed as antithetical to "tied house" laws, the potential behemoth might just be too much to swallow for regulators: The WSJ suggests that SAB would likely have to sell their 58% stake in MillerCoors probably to Molson Coors, which owns the rest. Still, globally, the merged company would control about 30% of the world's beer sales.
What's driving the possible merger? Slowing growth. AB InBev's second quarter profits fell 32%–with declines in four of six markets, including a 1.7% sales slowdown in the US. While suds have been flat, craft beer has been surging in sales and profitability. Craft beer has something MegaBeer lacks…flavor. Oh, and a good backstory, often locally brewed–all things that sell well with millennials.
So it would be a defensive merger, one driven by the cost-cutting that has become the signature move of 3G Capital, the mover behind the merger. Moreover, their reliance on huge ad budgets seems out of step with the more bottom-up discussion of social media today.
Revenues, cost-cutting, global brands…snooze. Pass me a nice cold Sierra Nevada and wake me when this merger talk is over.