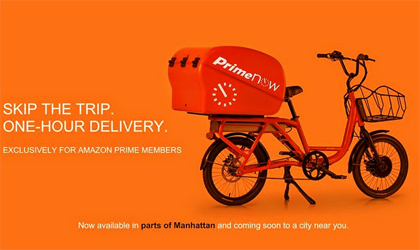 Amazon will bring booze to your door in an hour.
It is pretty amazing, even for the logistics champion. I mean bringing anything to your door that fast is pretty astonishing (why ever leave?) but wine/beer/liquor? Some people might become hermits.
The service is currently available only in the Seattle market. Delivery in an hour carries a $7.99 surcharge; delivery within two hours is free. There's a limited number of products available but does include things as diverse as TVs and some groceries.
The folks at Geek Wire tried it out. They paid for the hour delivery and placed their order for a bottle of Absolut vodka, some orange juice, a six-pack of beer, and some chips. How did it go?
"Thirty-four minutes later, we were pouring screwdrivers in the break room."
Impressive! Now just throw in some trousseau and you get the wine geeks clicking on the app. And bring the drones! The service delivers from 8 AM – midnight.
Amazon Prime Now is available (sans alcohol) in New York City, Atlanta, Dallas, Chicago and various other markets.
"Amazon expands Prime Now, offers U.S. alcohol for first time" [Reuters]