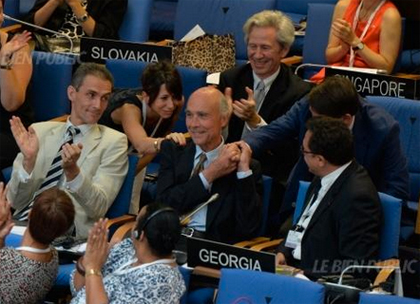 UNESCO added wine regions to their list of World Heritage sites at Saturday's meeting in Bonn. The 1,247 "climats" of Burgundy as well as the Champagne hillsides received official recognition as cultural sites.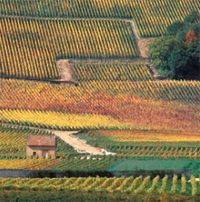 Campaigns in each French region supported the bids as well as the French government since UN member states are limited in nominating sites in their own boundaries. Burgundy's campaign video appears below (in English) with more details on their site. Aubert de Villaine of Domaine de la Romanée-Conti led the campaign for Burgundy's inclusion; above he is congratulated after the vote in favor.
The vineyards in the regions now receive an extra level of protection from future development and they qualify for additional financial aid for preservation and may get a fillip from additional tourism. A new Cité des Vins is slated to open next year in Beaune with the aim of welcoming 90,000 tourists. What do you think: will this make you want to visit more? I was pretty much sold at the word Burgundy…
St. Emilion in Bordeaux received World Heritage status in 1999, the Mosel in 2002, and Barolo and Barbaresco were recognized last year. There are 1,031 sites now on the list.
From UNESCO:
Climats, terroirs of Burgundy
The climates are precisely delimited vineyard parcels on the slopes of the Côte de Nuits and the Côte de Beaune south of the city of Dijon. They differ from one another due to specific natural conditions (geology and exposure) as well as vine types and have been shaped by human cultivation. Over time they came to be recognized by the wine they produce. This cultural landscape consists of two parts. Firstly, the vineyards and associated production units including villages and the town of Beaune, which together represent the commercial dimension of the production system. The second part includes the historic centre of Dijon, which embodies the political regulatory impetus that gave birth to the climats system. The site is an outstanding example of grape cultivation and wine production developed since the High Middle Ages.
Champagne Hillsides, Houses and Cellars
The property encompasses sites where the method of producing sparkling wines was developed on the principle of secondary fermentation in the bottle since the early 17th century to its early industrialization in the 19th century. The property is made up of three distinct ensembles: the historic vineyards of Hautvilliers, Aÿ and Mareuil-sur-Aÿ, Saint-Nicaise Hill in Reims, and the Avenue de Champagne and Fort Chabrol in Epernay. These three components – the supply basin formed by the historic hillsides, the production sites (with their underground cellars) and the sales and distribution centres (the Champagne Houses) – illustrate the entire champagne production process. The property bears clear testimony to the development of a very specialized artisan activity that has become an agro-industrial enterprise.