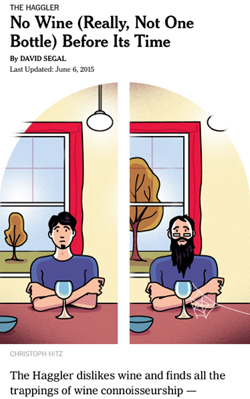 The topic of wine futures has roiling the wine world recently. Yes, the lackluster campaign for Bordeaux 2014 futures has shaken some corners. But what I'm talking about here the payment and then non-delivery of futures at Premier Cru, a retailer in Berkeley, CA. Wine discussion boards have bubbled over with frustration as consumers have paid money to secure wines–some as long ago as the 2008 vintage–and are still awaiting delivery. Futures are tricky; complaints of non-delivery of wines sank 1855.com, a French retailer, into bankruptcy.
It's great that the NYT's The Haggler columnist, David Segal, took up the issue in today's paper. While he provided an overview of wine futures and the situation at Premier Cru (including a few bons mots), he didn't reach a resolution as the column often does while advocating on the behalf of consumers. Segal promises a second part of the column to follow next week.
In anticipation of next week's column, if you are among the aggrieved it's a good opportunity to further articulate your problems. There isn't a comment thread on the article but you can comment elsewhere or write haggler@nytimes.com. Let The Haggler know your issues!