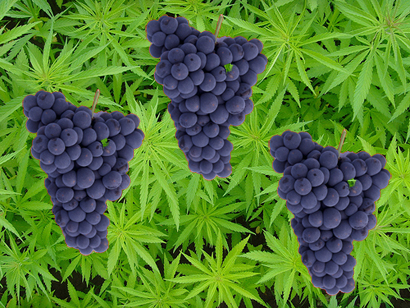 We've heard a lot about pot wine, those special barrels where marijuana is infused in the wine as it ferments and ages. Of course, like unicorns, they don't exist because if a winery were found to be making such a brew, it would be steeped in a world of pain that even a big fat one couldn't help moderate: they would lose their bonded winery license.
But Melissa Etheridge has found a way around these rules and regs to make pot wine a legal reality. Working with a dispensary in Santa Cruz, CBS News reports that the singer has created a line of "cannabis-infused fine wines." Legally, the 90 cases she and her partners have cooked up are known as "wine tinctures" and can only be sold to people with a prescription. Describing the effect, Etheridge, a cancer survivor, says "You feel a little buzzed from the alcohol and then get a delicious full body buzz."
The CBS story dares to find a doc who doesn't think it's such a great idea, saying "The wisdom of prescribing alcohol to any patients is highly suspect." Whoa, he's clearly not in Colorado!
Cuvée MJ is (legally) on the way.
"Cannabis-infused wine delivers a "full body buzz" says Melissa Etheridge" [CBS News]