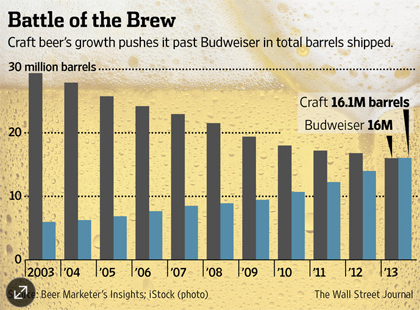 The King of Beers has a problem: Growth. Or, the lack of it. It's pretty obvious that Bud is in decline. But a chart in the WSJ, reproduced above, shows the scale and speed of that of that collapse, as Bud sales have cratered, falling by 50% over the last decade to 16 million barrels. In 1988, they sold 50 million barrels.
The main reason Bud's suds have turned flat is the stunning rise of craft beer. In fact, last year was the first year that craft beers, taken together, edged out Bud in total sales with 16.1 million barrels.
The WSJ piece indicates that Bud will be putting the famed Clydesdales out to pasture, rolling out new ads to try to woo younger drinkers. The piece also says that AB InBev will flex its muscles and try to get Bud on tap in bars where it isn't already flowing. While both of these strategies may get younger drinkers to try a Bud, will they ever go back for a second round? The brewer overlooking what has attracted younger drinkers to craft beer: flavor, something Bud is distinctly short on.
The surging popularity of craft beer also holds a challenge for wine, largely based on price (even though some craft beers are getting pricey). Fortunately though, wine has plenty of flavor. And there even are bubbles too, the Champagne of craft beers, if you will.
"Bud Crowded Out by Craft Beer Craze" [WSJ]