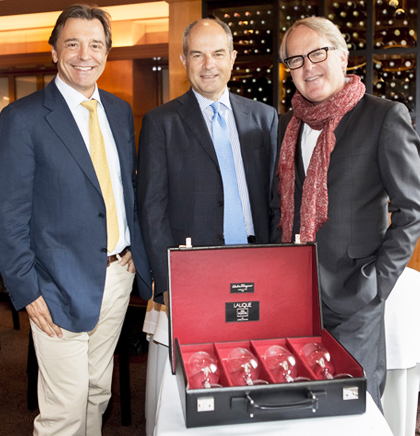 JAMES SUCKLING'S $8,500 FERRAGAMO BRIEFCASE FOR LALIQUE STEMWARE
Really, need we say more? No, but we should point out there's no scarf included.
Here are some other wine-y things you could do with $8,500:
* Build a 12′ x 5′ wine cellar in your basement with a cooling unit and double stacked wooden racking for 1,000 bottles and a dozen Zalto crystal wine glasses. (Local labor rates may vary.)
* Buy a ten bottles of Domaine de la Romanée Conti, Echézeaux, 2011.
* Buy a Eurocave 5290 + one case of Dom Pérignon 2004 and two cases of Billecart Salmon rosé Champagne.
* Buy 284 bottles of Pierre-Yves Colin-Morey's 2012 white Burgundy.
* Buy 531 bottles of Domaine de la Pepiere Clos des Briords Muscadet 2012.