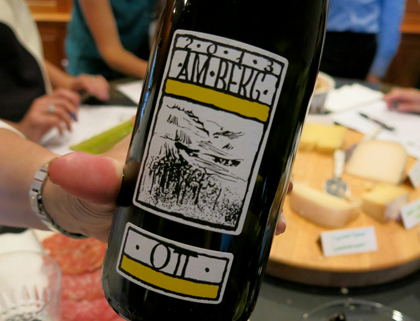 There's a hilarious story that runs every August: they're running out of rosé in The Hamptons! Predictably, it ran again this week. There are tons of great rosés out there (both still AND sparkling, ahem, Hamptons-goers) but the good ones do tend to sell out early in the season. So stock them early for subsequent stashing in sea planes!
Rather than mention other rosés, I'm going to pivot and talk about Ott. Domaine Ott is the pink object of much desire in the Hamptons. But wine enthusiasts would be very will served to take an Austrian turn and try Bernhard Ott's 2013 Gruner Veltliners. I poured the Am Berg at a private tasting on the Upper East Side the other day and this was the crowd favorite for its verve, minerality and crackle. The best thing too: it was the cheapest 750ml wine at the tasting, ringing up at $19.99, in part thanks hailing from the Wagram rather than the more tony Wachau. (Find Ott Gruner Am Berg at retail)
Oh, and if you want some bubbly, the 2012 Knauss Riesling Sekt Zero also turned heads with stylish packaging (below) as well as purity on the palate. (Find Knauss Sekt Zero at retail)
Actually, I take it all back: who needs these prices to run up?