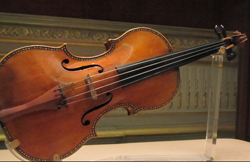 We all know about the record of wine experts at blind tastings: decidedly mixed.
What if professional violin players played a 300-year-old Stradivarius worth millions of dollars and a newer violin (worth tens of thousands) under double blind conditions? Would they fare better than professional wine tasters? SPOILER ALERT: It turns out, no, the professional players picked the older violins as superior only on par with the odds in chance.
Check out the story on the most recent Planet Money podcast from NPR. And here's a link to the one of the studies in PNAS.