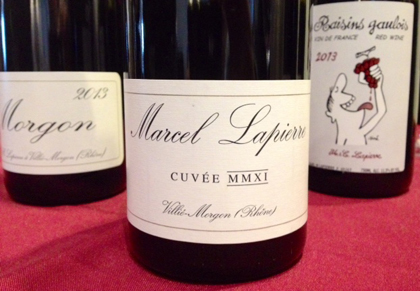 Mathieu Lapierre said that the 2013 showed more "Burgundy influence." At the Kermit Lynch portfolio tasting in New York yesterday, he elaborated briefly that given the location of Beaujolais, vintages can oscillate between "Rhone-influenced" (e.g. 2009) and "Burgundy-influenced." He said 2013 for him ended without hail, the grapes were healthy and they harvested as late as October 28, a record.
The Raisin Gaullois 2013 is a vin glouglou from the estate's youngest vines, bottled en screw. (Too bad that the 5L bag-in-box is not imported!)
The Morgon, always a reference point for the region, has a beautiful poise between come-hither fruit of the semi-carbonic macerationo and tannic structure from the granite soils in the 2013 wine. The "Cuvée MMIX" (2009) was a tad ripe for me (Rhone-ish, if you will), but the "Cuvée MMXI" (2011) more successfully combines the ripeness of the wine with intriguing structure. Thing for my "to do" list: taste this MMXI with the Foillard Pi Morgon wine for a fuller understanding of their differences and similarities.
Asked if he prefers to drink the Morgons now or with some age on them, Mathieu replied that with friends he prefers young wines but that for more serious occasions, he's currently drinking the 2007s. He invoked the late Henri Jayer, saying "a good wine must be good young and old for different reasons."
Find these wines at retail
Visit the domaine's improved website