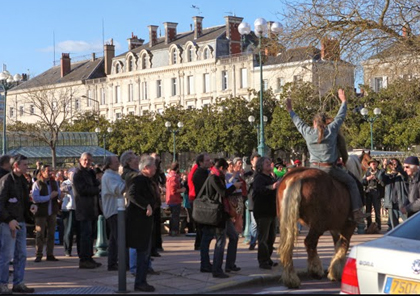 This week, Olivier Cousin went before a judge. The heinous crime of the pony-tailed vigneron? Truth in labeling.
Here's the story (which we've mentioned before but it's worth a recap): Cousin farms 12 acres organically–neigh, biodynamically for Cousin who tills his vineyards with horse-drawn plows. In those vineyards in the town of Anjou, he has a lot of cabernet franc, known locally as Breton. So he labeled his 100% cabernet franc wine grown in Anjou as "Anjou Pur Breton." So far so good, right?
The only catch is that the appellation retains the right to the term Anjou on wine labels and wines bearing the term must meet their criteria, including a blind tasting by committee. And Cousin quit the AOC in 2005 telling journo-blogger Jim Budd, "I stopped because the AOC is for industrial wines as the rules permit everything: weedkillers, huge yields, additives etc." So the appellation authorities have dropped the legal hammer (gavel?) on Cousin and brought him to court.
Jim Budd was at the trial in Angers on Wednesday and the photos are his. He says that there was a protest picnic in front of the courthouse with wine, signs and Olivier Cousin riding his plow horse bareback down the courthouse steps.
Budd writes that Olivier Cousin took the stand and, after stating some background info such as the fact that 75% of his wine is exported, underscored that he uses sustainable viticulture, doesn't add sulfur or chaptalize (a process of adding sugar to boost alcohol). From the witness stand, he described two different styles of local agriculture prevailing, "industrial" and "paysans" making "healthy" wines with no additives. He said that the place where the grapes are grown, the grape variety, and the vintage are the key things consumers need to know about a wine.
Cousin's lawyer claimed elaborated that "The Anjou has been confiscated – stolen by appellation contrôlée. When buying wine the consumer looks for the assurance of 'd'origine controlée' and not Anjou. Cousin had not tricked the consumer." Cousin's lawyer also revealed that Cousin calls his wife is "Petite Anjou."
The prosecutor said that Cousin duped the consumer because Anjou is a protected term in commerce.
The verdict will be handed down on June 4. If found guilty, Cousin faces a fine of about $8,000.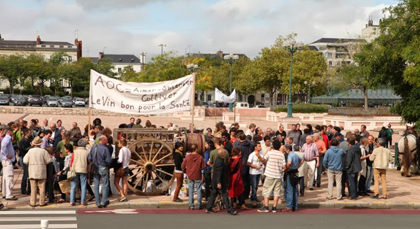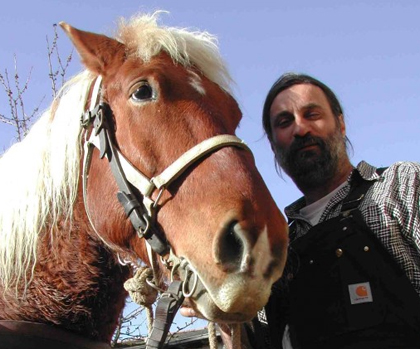 Related: Aid Olivier Cousin goes global
"Au juge, je dirai : "Je ne fraude pas, je fais du vin d'Anjou"" [nouvelobs.fr]