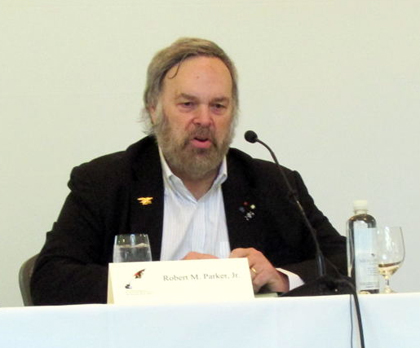 "When I retire, I don't want to see the wine writing profession wither away."
That was one of the many provocative things that Robert Parker said before–get this–a room of wine writers (which prompted some chortles on twitter about new career paths). Granted, wine writing and journalism more generally have changed since Parker was at his peak. But the après-Parker era will not be one of silence; indeed, diversity of opinion is now the norm.
At any rate, Richard Jennings attended the talk and he posted key passages from Parker's talk as well as the above picture. Here are some of the winning quotes:
* "The wine world is so big. Yes, there are styles of wines I don't like. Orange wine, natural wines and low alcohol wines. Truth is on my side and history will prove I am right."
* On Jay Miller: "The appearance of doing something wrong is just as bad as the reality, and our writer in Spain, although he didn't do anything seriously wrong, surely wasn't careful."
* On tasting the controversial Pavie 2003 this month: "[I] was having problems with it though. The gritty tannins seemed to me to be excessive. It is a vintage that's evolving very fast. I kept those problems to myself though, until today."
* On closing eBob to non-subscribers: "No one at The Wine Advocate has any regrets about closing it…[Bulletin board editor] Mark Squires kept throwing people off, warning them at first. It just got worse and worse though. [Squires] was turning into a schizophrenic because so many people were complaining."
* "People do still want to read tasting notes."
* On Asia and China: "I want to leave some kind of legacy in Asia. [The Chinese] are great students and fast learners. They're too respectful to challenge you on anything, but they're learning."
* On the Wine Advocate's new owners: "I'm not the majority owner anymore."
Check out the full summary.