I love a good documentary. I just saw "Blackfish," about the treatment of killer whales at Sea World and thought it was effective in taking an issue that I hadn't really thought about, making me interested in it, and giving me some basis for forming an opinion about the issue (free the whales!). "The Cove" was similar in presenting the capture and brutal killing of dolphins in Japan; that documentary was gorgeously shot had a dramatic tension as the camera crew inserted themselves into the narrative. In that vein, Morgan Spurlock's stunt of eating McDonald's for 30 days in "Super Size Me" was a good way of getting at the broader issue of the health and fast food. More recently, my kids and I enjoyed the "The Short Game," a Netflix original about competitive golfing among seven and eight year olds. Again, we don't even golf but it had good arc and did raise the issue of how much is too much competition for such young kids as well as what it takes to succeed at an early age.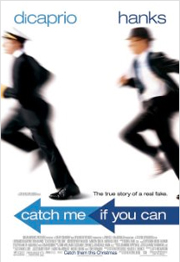 This is all a long-winded background to the fact that Decanter reports that a documentary entitled "Sour Grapes" is in the works about the Rudy Kurniawan wine counterfeiting story. They say that the film is being made by a British team with the full cooperation of Laurent Ponsot and will be completed by the end of this year.
While I look forward to seeing the documentary, I'm not sure a documentary is the best treatment for the material. The Rudy saga is terrific and it definitely has the ability to draw the interest of the casual viewer not really into wine. But to me it is a character-driven story that speaks to the larger themes of hubris, duplicity, gullibility and more. In other words, the stuff of Shakespeare more than policy issues, such as dolphin hunting, orca abuse, or nutrition gone off the rails. So I hope that this documentary treatment doesn't crowd out what I see as the huge possibility of a fictionalized movie version, in the vein of "Catch Me If You Can," which was based on a true story of check forgery and grossed almost $200 million. However, I'm not exactly sure who is working on such a treatment of the story so I guess we as wine enthusiasts will take what we can get in terms of further exposure to the story and the wine world.
Because having a blockbuster movie about wine might just be the best way for the Rudy saga to end, assuming it gets more people into wine generally and not just into '45 DRC RC. Look where that got some people!