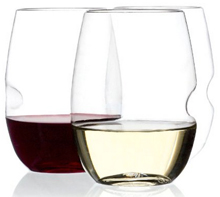 Going, going, gone: GoVino, the "#1 best seller" in wine glasses on Amazon, has been sold. Pat Stotesbery, owner of Ladera Vineyards in Napa, has bought the developer and designer of polymer (aka "plastic") extremely practical glasses for an undisclosed sum. He told North Bay Business Journal that the possibilities for the glasses are "endless" and he will take them to the "next level."
SPIT: bile. Robert Parker's most recent comments get a public airing. Drink every time you hear "extremists" or "elitists"!
SIPPING UNABATED: John Boehner says he wouldn't give up wine (and smokes) in order to become presidents. The wine color? Red, natch.
SIPPED, not chugged. Cambridge spends $5 million a year on wine. Should we infer that they do barrel stands there instead of the more plebeian keg stands? [Telegraph]
CROWNED: NYU Stern and Yale Law will represent the US at the Bordeaux Cup in June. [winespectator]