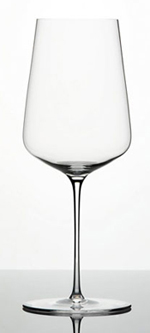 I think I mentioned previously my regular space over at foodandwine.com called "Dr. Vino's Verdict." In the series of short posts, I render judgement on pressing issues of the wine world. I can't promise the wisdom of Solomon with my verdicts, but I do aim for more than Judge Judy.
Anyhoo, in my post over there this week, I strongly urge you to cut through the marketing clutter that suggests a different glass for each grape variety. Instead, reach for one glass–the Zalto Universal–to elevate your wine drinking experience.
Don't you think varietal stemware is just a tad overkill?
In related news, not from The Onion, Riedel announced a $20 glass for Coca-Cola this week. But will it work for Diet Coke?
Related: "The urge to splurge"
Durability test – youtube