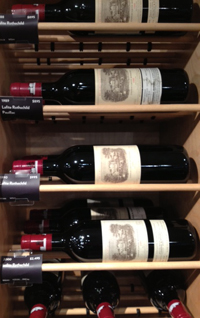 Domaine de la Romanée Conti topped the charts at Sotheby's last year. The auction house (and wine retailer) sold $57.9 million of wine in 2013 and DRC accounted for $7.2 million of that. Almost three quarters of the DRC was sold in Hong Kong. Lafite was second at $5.2 million and Pétrus and Haut Brion tied for third with $4.6 million of each falling under the hammer.
Asked at a press conference at Sotheby's in New York City yesterday if DRC would continue as the top wine for 2014, Jamie Ritchie pointed to the tiny production of the wine, lots of demand and the that fact that people do actually drink it, uncorking it everyday somewhere (I want to meet these people). Ritchie is the President and CEO of Sotheby's Wine Americas and Asia.
The house doubled sales between 2009 and 2010 as sales jumped from $41.8 million to $88 million. They have declined since that high-water mark as mainland China's thirst for wine has slowed. Even with that slowdown, several observers at the event concurred that when traveling in China's wine circles today, there are opportunities to drink abundant amounts of fine wine every evening. Asian buyers purchased 62% of wine at their auctions around the globe.
Even if the data are, in part, driven by what they procured (e.g. their large Opus One sale), it's good to see Sotheby's opening up their sales data. I wish other auction houses would do the same. Charts and other stats follow after the jump.
The most expensive bottle of wine ever sold at Sotheby's: $310,700 for a jeroboam of Chateau Mouton Rothschild 1945 (sold in February 2007 in New York).
The most expensive 750-ml bottle ever sold at Sotheby's: $232,692 for a Chateau Lafite Rothschild 1869 (October 2010 in Hong Kong).
The most expensive wine auction lot ever sold at Sotheby's: $1,051,600 for 50 cases of Chateau Mouton Rothschild 1982 (sold November 2006 in New York).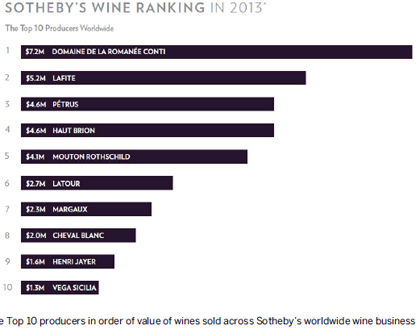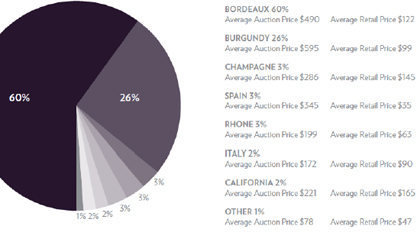 Related: "Romanee-Conti's Burgundy Gets Top Prices at Wine Auctions" [Bloomberg]