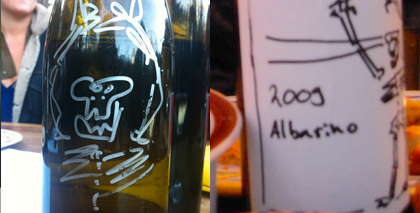 The SF Chronicle has a piece on the next generation of Napa Valley vintners. Here's a snippet of what they're up to:
Young, ambitious and eco-friendly, with hobbies like deer hunting and Porsche racing, the next generation of California's wine heirs is coming of age…
Ah, yes, eco-friendly Porsche racing! Funny, with this lot, you think they'd be Scions. Anyway, there's more:
[Loren] Trefethen had been watching TED talks and attending Summit Series events, invite-only weekend escapes at a private ski resort, and he decided to host his own event series. The Trefethen Table, as he calls it, is a dinner series curated by Trefethen and Hebb. Guests – like Gary Friedman, the CEO of Restoration Hardware, and Ido Leffler, the founder of SayYes – sit around an enormous tabletop and discuss previously arranged topics, like the art of conversation, the ocean, health and "the paradox of density."
And now he wants to make a reality TV show out of these talks.
Janet Viader: "We get together once a month, and there's some laughing and joking. Every now and then it's a bitch-fest about working with family."
"Alex Kongsgaard works for his family's winery and on the side makes a line of wines he calls Skeletons vs. Robots (an Albarino and a Zinfandel). He draws the labels himself with a Sharpie."
"Will Harlan came home to Napa after trying his hand at a price comparison startup. In October, he debuted Mascot, a cheaper version of his family's high-end wine (Harlan wines can go for $750 to wine club members; the Mascot costs $75)."
So much win! Check out the full article for an inside look at this rare breed.