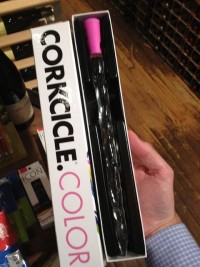 It's that time of the year: Merry War on Christmas, everyone!
If Fox News were to channel its resources to a vinous purpose, they could do well to declare a war on wine gadgets. Fortunately, Marketplace picks up the slack in the Marketplace Morning Report today. In it, the reporter tracks down a shop manager who admits he's not wild about wine aerators but he stocks them (and more!) nonetheless because people want to give them as gifts! The same gent has actually placed a moratorium wine paraphernalia from his family after he got a ceramic dog that holds a bottle of wine.
I agree there are so many useless wine gadgets, such as the corkcicle (right). Keep that long, probing thing out of my wine bottle–oh, my! Why not just give a bottle of wine to a wine-loving friend? So much the better if you can share it together.
Merry, merry!