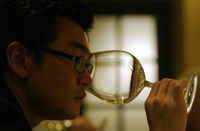 The jury has returned a verdict: Rudy Kurniawan has been found guilty of selling counterfeit wine through the mail and engaging in wire fraud. Judge Richard Berman will announce the sentencing on April 24; Kurniawan could spend 40 years in federal prison.
I returned to the Moynihan courthouse yesterday in hopes that the jury would begin their deliberations, but the proceedings dragged on and the jury was dismissed for the day only to begin their deliberations today. The prosecution rested on Monday, and yesterday the defense brought one witness, C. Robert Collins, a former wine importer. Among other things, Collins admitted over almost two hours that almost all the bottles he inspected as evidence were fakes, he defended Patriarche as having good wines in their cellars, and disputed whether a 1923 Roumier bottling should be dismissed as a fake prima facie even though the domaine only came into existence in 1924.
Joseph Facciponti presented a terrific defense summation for the prosecution and included easy-to-follow powerpoint slides. He argued that the defendant's "magic cellar" produced such rare wines that the families of the domaines didn't even know they existed. "The magic show worked for a while," Facciponti said. "But there was no magic, only lies, smoke and mirrors." He said that over the period 2004 – 2012, Kurniawan was a "prolific wine counterfeiter in his home" who created a witch's brew of concoctions that the prosecution had compiled into a "mountain of evidence." He was guilty beyond a reasonable doubt, Facciponti argued, and he was motivated by greed. One thing that is not in dispute in the trial is that the defendant sold fake wines and "we know from the evidence that he was making them."
As to the defense's suggestion that Kurniawan was using the labels and corks as part of a home improvement project, Facciponti said "that's preposterous."
The prosecution showed that Kurniawan lied three times in an application for a $3 million loan from Fine Art Capital. He lied about his immigration status, saying he was a permanent resident when an immigration judge actually denied his petition for asylum in 2001 and ordered him to leave the country. He also understated his expenditures and outstanding debts.
The defense attorney, Jerome Mooney, mounted a free-wheeling, 55-minute summation in which portrayed Kurniawan as a victim in a wine world awash in fakes. He suggested that Kurniawan was "obsessive," "keeping everything," and trying to make the old bottles better, adding wax here and there to chipped capsules. Should he have done that? "Probably not," Money said comparing it to innocent collectors on the PBS show "Antique Roadshow." He suggested that Kurniawan wanted to be part of the club of collectors. As to the fake Ponsot bottles he tried to sell in 2008, he didn't want to name his Indonesian source of fake Ponsot wines out of "danger" to that person.
US Attorney Jason Hernandez rebutted these points saying that Kurniawan lied to Fine Art Capital when he had separately said in an email that he was in deep S-H-I-T financially. He lied to Jancis Robinson in a story to make him look as if he were fighting counterfeiting. Why write did he write Eric Greenberg and say he could "move" his suspect Bordeaux for him. Why did he pay a 5% commission to Antonio Castanos, to try to sell more wine at auction in 2012 while telling him not to reveal the source?
"If you think the defendant was merely polishing bottles in his home, then you must think that next week a man in a white beard is going to come down your chimney and leave you a case of '45 Domaine de la Romanée-Conti," Hernandez said.
The jury deliberations took less than two hours. Pete Hellman, who has done a great job covering the trial (and counterfeiting more generally) for Wine Spectator, writes that Rudy didn't flinch as the verdict was read.
On human interest level, none of his friends or family appeared in the court yesterday, which could have been the last day in a long time that they could have seen him. It will be interesting if he will appeal or even if he will claim inadequate representation. Mooney was Kurniawan's second legal team; Michael Proctor represented Kurniawan at first. No reason for the split was disclosed.
It remains to be seen what the Department of Justice will do with this verdict in hand. (Attorneys Hernandez and Facciponti deserve some fine Burgundy tonight as they did an extremely thorough job with this case.) Clearly, Rudy Kurniawan–whose own biography has many holes–had accomplices to varying degrees. Clearly, he is not the only fake wine producer in the world. In many ways, counterfeit wine is the perfect crime since trophy bottles are often traded and flipped; even when the corks are pulled, the drinker may not know if it is the genuine article.
No matter what the feds do going forward, the Rudy Kurniawan saga has been one heck of a story.