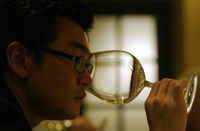 Rudy Kurniawan sat with his back to the gallery, his Men's Warehouse suit bunching up below his neck. Some have said he's lost weight since he's been in jail; never having seen him before, I can't confirm that. But he is a slight man with a young face behind his thick-framed, black glasses.
And it was a dour face today at the US District Court in lower Manhattan. In case you haven't heard, Kurniawan is standing trial this week, with the Department of Justice accusing of selling counterfeit wines. Although one of the auctions in focus, Acker's "Cellar II" sale in October 2007, grossed almost $25 million, the amount of fake wine he is alleged to have sold is $1.3 million.
I came in late and left early so I won't pretend this is a comprehensive account of the trial. But I did get a feel for the proceedings, hearing the prosecutors and the defense attorney cross examine a key witness, FBI special agent James Wynne.
The US Attorney is the dapper Jason Hernandez who could easily be played by a Pretty Woman-era Richard Gere in the movie version. He had excellent command of the facts and the highly detailed, multimedia presentation as swiftly as one might expect. The defense attorney is Jerome Mooney, Kurniawan's second counsel. A casting director might put Andy Richter in for him. His questions were scattershot, with nothing hitting the mark. The jury box had 14 people in it, five men and nine women. There is only one juror who looked under 30; median age appears to be late 40s. The jurors come from diverse racial backgrounds.
The government presented their voluminous and compelling evidence in the form of bottles, corks, labels, and photos from Kurniawan's house in LA. With a search warrant in hand, federal agents entered the house at 6 AM on March 8, 2012 and found what Special Agent Wynne called a "wine factory" from the stand. As has been disclosed previously, bottles were in various stages of repurposing, with labels being floated off in the sink, a recorking device on the premises, drawers full of labels and bottles everywhere, ranging from full to empty and even partially full. It's hilariously apt that eighteen bottles were even on the treadmill, a metaphor if there ever was one.
Hernandez presented evidence from Rudy's bank accounts. During a two-month period in late 2007, he spent about $4,000 procuring various forms of wax. One email exchange between Rudy and a wax vendor (some sort of stationery purveyor, as I recall), had him inquiring if the wax was akin to old French wax but the guy said it was more like Scottish wax in that it will break upon flexing. They presented invoices of his purchasing certain types of high-quality paper.
They also showed data from his personal American Express card that Kurniawan spent over $600,000 at Hermes during a two-year period (total spend on the card was about $8.5 million). The prosecution is highlighting his attraction to a life of luxury as part of their case.
They also presented an email from Kurniawan to Robert Bohr of Cru restaurant in NYC, site of the Acker auctions, requesting the empty bottles be sent via FedEx to his home in LA. He said they were for a photo shoot to commemorate the event. After receiving the box with most of the bottles broken, he sent a scathing email to Bohr and Acker.
They presented emails from Rudy to John Kapon discussing in minute detail the auction catalogues. They presented emails from Rudy to another of the staff at Acker seeking to procure "100-200 cs [cases] of cheap 80s bord [Bordeaux]."
They presented an email exchange when Jancis Robinson queried him about an article she was writing on counterfeiting and he said "I don't keep detailed records…In Asia, we don't keep detailed records. I throw away all my bank statements."
The defense attorney has a hard task. But what did he do in the face of this onslaught of evidence, the metaphorical corpse and the smoking gun on display? He played small ball. He pointed out a coincidence that half the Hermes spend came around Chinese new year. He said that Rudy's mom also had a card on the account—but the witness said these were charges to Rudy's card. He pressed the agent on which wines were in the unmarked bottles–as if Wynne knew! He suggested that it's the nature of collectors to keep detailed notes and memorabilia from big tastings. He even went so far as to suggest that the corks and labels could be décor Rudy's new house! The defense attorney chose to leave pictures from the arrest on the court monitors for quite a while–far too long, imho, searing these images from what was just called a wine factory into the memories of the jury.
One funny moment was when the defense attorney presented Wynn with a magnum signed by various collectors and asked him to read the names. After reciting a few, he quizzically said, "Big boy? I don't know who that is." (That was the nom de vin of collector Rob Rosania.)
Perhaps the defense has some stellar witnesses or undisclosed evidence lined up–innocent until proven guilty and all that. But from what I saw at 500 Pearl Street, courtroom 12-D today, things were looking pretty bleak for the defendant who faces up to 20 years in prison, if convicted. Proceedings will continue tomorrow morning with the prosecution bringing from French wine makers such as Laurent Ponsot to the witness stand.