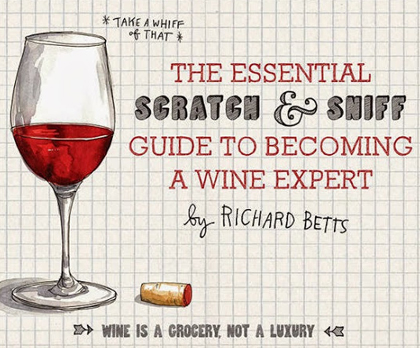 The hottest wine book of 2013 might take you by surprise: it's a scratch and sniff wine guide that's printed on the stiff pages of a board book. The book has caught fire and reached #13 overall in book sales on Amazon and #10 in the "Advice, How-To, and Miscellaneous" portion of the NYT bestseller list. As you would expect, it is both skimmable and sniffable but it is also brilliant in its own small way; kudos to author Richard Betts for writing what might well be the shortest wine book in history.
To find out more about how "The Essential Scratch & Sniff Guide to Becoming a Wine Expert" came about and the vertiginous rise on the sales charts, I caught up with Betts by phone as he was driving in the Northern Rhone.
The story has its roots in Aspen. Betts was the wine director at The Little Nell there from 2000-2008 during which time he says it was "the best wine job on the planet." Why? First, it was seasonal with basically six months on and six months, well, at a slower pace. During the off-months, Betts set about studying wine including passing the Master Sommelier exam as well as making his own wines from places as far afield as the Rhone and the Barossa Valley. Second, Aspen offers a steady stream of well-heeled and connected visitors who were all taking a break from their regular lives and thus "predisposed to smiling," as Betts put it.
Betts was off skiing in Northern Canada a couple of years ago with his friend Chris Sacca. Sacca, who has been described by the WSJ as "possibly the most influential businessman in America," is an angel investor who holds stakes in Twitter, Instagram, Kickstarter and Uber. (He also is an investor in Next Wine, LLC, which owns myessentialwine.com.) Betts says that they were up late after drinking "a lot of good wine" when Sacca urged him to consider how to bring his wine knowledge to a broader audience. Betts said that there world has so many good wine books from reference books to atlases and guides that it was hard to know how he contribute something new and different. Half in jest, Sacca suggested a scratch 'n sniff wine book. That idea resonated with Betts whose mantra is that "wine is a grocery, not a luxury." He enlisted Crystal English Sacca, a designer who has developed campaigns for Intel and Napster, among others, and happens to be married to Chris Sacca. Betts says he wrote the text but that Crystal "lays it out and makes it make sense" in her role as art director. She also brought on the accomplished Wendy McNaughton as illustrator.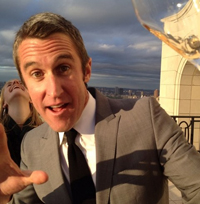 Then Betts needed to find an agent. He said the dilemma is that "you need to have sold a book to get an agent but you need an agent to sell a book." He asked three people–Kate Krader of Food & Wine magazine, Daniel Humm of Eleven Madison Park, and Tyler Hamilton, former professional cyclist–who would make a good agent. They all replied with the same name: David Black. He was able to get Black to represent him; they successfully sold the manuscript to Houghton Mifflin where the acquiring editor is also Jacques Pepin's editor.
As the publication date approached in October, the book was climbing — it cracked the top 100 books sold on Amazon, topping at #17 before even hitting the shelves. It helped that Amazon cut the price on the book in half (it carries a list price of $19.99) making it a no-brainer stocking stuffer. But it also helped that the creative trio behind the book have friends active on social media and tech. "It's a matter of having your friends talking about it," Betts said. "Our friends don't take to anything other than the airwaves [e.g. Twitter]…It had such a big impact–Twitter actually sells." He added that he doesn't find Facebook as important.
Chris Sacca also took to Twitter, posting a direct link to the book's Amazon page for his 1.4 million followers. (As of today, that tweet appeared at the top of his feed as a "promoted tweet.") Favorable media coverage also followed.
The book has been such a print success, in part because there's no e-version–kind of hard to scratch ye olde iPad for scents. Betts has other scratch 'n sniff books, though he couldn't comment on the specifics.
More than the medium, Betts feels that the laid-back, inclusive message resonates broadly, saying, "I'm not into the tuxedos and scaring people away from wine. I'm into twist it off and knock it back."