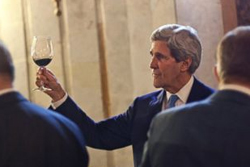 It's not every day you hear urging Americans to drink wine. But that's what John Kerry did today during a brief stopover in Moldova.
The Secretary of State wasn't modeling his actions on Thomas Jefferson. Instead, by visiting a winery and raising a glass of Moldovan red, he was trying to help the agrarian economy of the Europe's poorest country, one glass at a time.
Wine plays a central part in foreign trade for the landlocked country sandwiched between Ukraine and Romania where the GDP per capita of just over $2,000. But the lion's share of those exports have gone to Russia, which has blacklisted Moldovan wine in a trade dispute. So Kerry's trying to create a new market for Moldovan wine and announced a trade mission that will bring Moldovan wine makers to the US to learn about the American wine market. Look out for a merry band of Moldovans at your local wine shop–it may be as riotous as the Borat wine tasting.
More: "Why John Kerry Wants You to Drink Moldovan Wine" [ABC News]
"Russian media deride Kerry visit to Moldova" [LA Times]