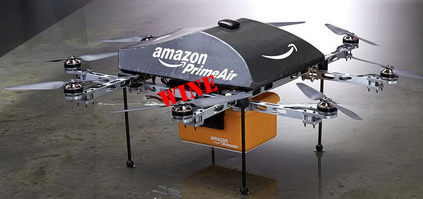 Jeff Bezos had some crazy talk for Charlie Rose at the end of a 60 Minutes segment: Amazon is working to deliver some items in 30 minutes or less via unmanned, aerial drones.
It's not April Fool's Day; Amazon tweeted a link to a picture of the "octocopter" delivery vehicle and published this futuristic video on YouTube. Bezos did concede to Charlie Rose that the plan, possibly 4-5 years off, "requires more safety testing and FAA approvals."
If Amazon drones were approved, this delivery method would have enormous implications. But since we're a wine blog, we'll focus on the wine angle here: getting wine in 30 minutes would give a lift to your Friday night. And since the Octocopter delivers to GPS coordinates, it could conceivably track your phone and deliver your whole picnic right to where you are. Hopefully, there will also be a robotic sommelier to pop and pour.
Or is it so futuristic, unworkably weather- and regulation-dependent, that the main triumph is just to give a lot of buzz (without rotors) during the busiest shopping time of the year?