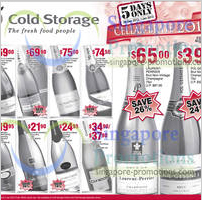 Why do Champagne prices often decrease during the holidays? Economic logic might hold that as demand increases–a huge amount of bubbly is put away during the last few weeks of the year–that prices should also increase.
A recent article in the Times mounts a parallel quest in understanding why turkey prices fall as Thanksgiving approaches and rose prices rise into Valentine's Day.
As with frozen turkeys supermarkets, well-known champagne brands can be used as a loss-leader. Come for the Veuve Clicquot and leave with a few bottles of malbec and other full-priced items for your party. And as with frozen turkeys, there's a vast supply of champagne brands ready to fill sales channels for this busy time of the year. Also, as with the article's example of low-priced tuna contributing to price compression of canned tuna during Lent, the presence of perfectly serviceable other sorts of lower-priced bubbles may act to compress the prices of champagne brands. Finally, a supermarket probably doesn't want to devote space to frozen turkey after Thanksgiving so they might be inclined to cut prices to clear out inventory. Similarly, a large wine shop might want to reduce their stock of bubbly post-New Year's Eve.
The article points out the different market dynamic with the price of roses at Valentine's Day: with more demand, rose prices surge. There's a limited supply of fresh roses and flower shops can't benefit from a loss leader as the Valentine shopper wants only roses. In the wine world, a small shop may not stock big-label champagne, so may not have loss-leaders to flog in newspaper ads. Also, if the shop focuses on grower champagne, the supply, while not as limited as fresh roses at Valentine's Day, is more limited than the grandes marques, which could lead to price stability at a time of discounting.
When it comes to champagne shopping this holiday season, think about are you getting a frozen turkey or a rose and shop accordingly.