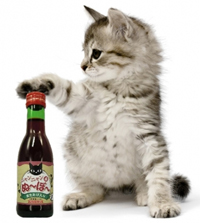 DEATH OF WINE WRITING, continued: The SF Chronicle will end the food & wine section as a stand-alone section. Although there will be no layoffs, the offices will be relocated, the test kitchen closed, and the column inches (presumably) reduced. [NYT]
DEATH OF WINE DRINKING in Europe: Newsweek has a story on declining consumption of wine in Italy. Charts! Quotes!
GULPED: Vox Media acquires Curbed and Eater for about $30 million. [Fortune]
CRAZY TALK: Rudy K may lodge an insanity plea in his wine counterfeiting trial. [Bloomberg; Hosemaster]
The Cautionary tale of HAIRY VAYNERCHIMP: need we say more?
SIPPED: style. Check out what I have to say on wine style and the rotating gif over at Foodandwine.com.
SPIT: Hello, kitty! Someone in Japan has released a cabernet juice "wine" designed for cats. It get a purrrfect score, but the only trouble is that most cats don't like the kitty wine. [CNBC]