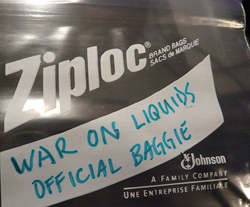 Perhaps you are reading this on your smartphone as you push back from the gate. With the end of the FAA's ban on the use of personal electronic devices at take-off and landing, such a scenario is now possible (though in the latest for the "death of print," magazine sales at airport kiosks will probably fall further).
So what could be the next change in air travel: might it be the end of liquids ban? Japan has been using liquid screening since 2006; the LA Times reports that the EU will be lifting the liquid ban come January. Here's a description of the machine that will permit travelers in Europe to carry on gels, creams and even snow globes:
The LS10 device looks like a slot machine. An airport screener places a bottle of liquid into an opening in the machine and then pulls down a large black lever, which starts the testing mechanism. The device can be used with see-through or opaque bottles, metal cans or ceramic containers.

The test takes two to five seconds per container.
The scanner equipment is made in a far-off land known as…Ohio. Even though the TSA has a comment in the story saying they won't be lifting the liquids ban soon, it's increasingly obvious that the technology to test liquids for explosives is available and what is lacking is simply a desire to remove the policy.
Although serving your own wine on planes is still technically forbidden, it would be a boon for wine enthusiasts to be able to bring a bottle or two on board again. It's a lot easier if you're bringing a hostess gift on a weekend trip or visiting a winery and just want to bring home a bottle or two, not a box worthy of checking as luggage (with associated fees, natch.)
What do you say: is the liquids ban security theater and the TSA should drop it?
Photo Credit: djbones