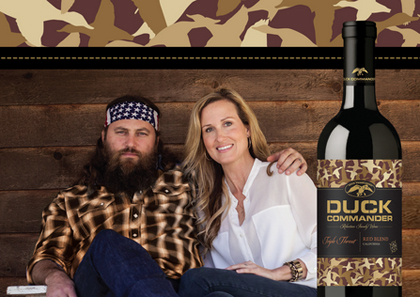 "Yuppie folks ain't the only ones who can enjoy good wine."
This is one of the most important sentences of the year about American wine consumption as it appeared on People.com. I'm not even sure who the guy who said it actually is. But he is apparently hunts ducks on TV.
Yes, he's also talking his own book since he now has a wine called Duck Commander. Look at it–it has camo on the labels! Truly, a beauty to behold.
Is it a wine that wine geeks will sip and cherish? Does it speak of a certain vineyard? No and no. But that what makes it awesome. It's Bubba wine from a God-fearing, TV family (the Robertson duck "dynasty") that sells for under $10 a bottle. Duck Commander wines and it's ilk are just what America needs to keep per capita consumption rising for a twentieth consecutive year.
The only thing missing is the suggestion to serve it in redneck wine glasses.