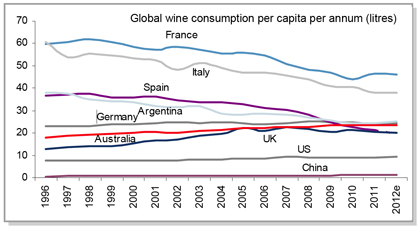 Halloween always brings a lot of scaaaaaary stories. But the biggest bogeyman out there in wine news today is the story that the world is running out of wine.
Morgan Stanley's Australian unit has published a report suggesting that global demand risks swallowing the world's wine. Time to unleash a tsunami of chart-heavy posts and breathless news coverage!
In short, Morgan Stanley's 78-page report makes the argument that production has fallen through various uprooting schemes in the EU, consumption has risen, and a 600 million case surplus in 2004 has swung to only a 1 million case cushion now.
However, Paul Franson points out that the fear is overblown since Morgan Stanley is the odd one out. It's worth flagging his account over at Wines & Vines because Franson not only has some good figures but also gets some good quotes. Consider this one from Rabobank's Stephen Rannekleiv: "It's worth asking: If the market is so incredibly tight, why are bulk wine prices moving lower in most major regions of the world?" (He has more sanguine analysis about the market and hints at lots of under-the-table activity, adding "buying Spanish bulk wine and selling it as French bottled wine is a great business model.")
The OIV forecasts an 8% rise in wine production this year. And Silicon Valley Bank's Rob McMillan told the SF Chronicle that "Morgan Stanley's report is just wrong," citing a dearth of tank space for inventorying wine, among other factors.
Two things are happening here. First, there's a ton of bulk wine in the world, admittedly less than there was a few years ago. But there was so much wine being produced that even AOC wine was being distilled into ethanol. Getting rid of wine that's being made into a fuel additive is not exactly something for a wine consumer to lose sleep over. What is worrisome are the severe weather in places like Burgundy this summer, which will cause scarcity and drive prices higher. But this has absolutely nothing to do with the "wine lake" and distillation end of the market.
Second, many media outlets have picked up this story and run with the "shortage" angle. I know this is a spooky time of year, but praying on the fears of wine drinkers in this issue is unnecessary and short-sighted.