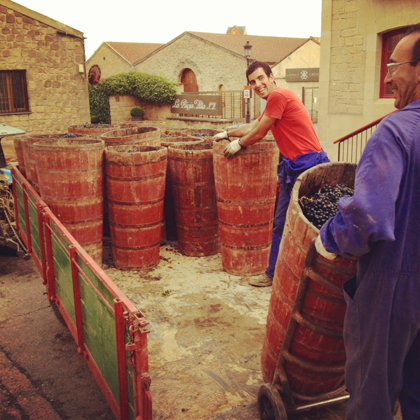 I'm in Rioja attending the Digital Wine Communicators' Conference.
I got to stop by Lopez de Heredia, the shrine to fine wine in Haro. As the sun set and the last grapes of the 2013 harvest arrived, Mercedes Lopez de Heredia took a break from her duties to show a few of us around. Because the celebrated winery, a shrine to fine wine, has been around for over a century, it's not exactly breaking news. But the mold-covered walls and the cellars where 13,000 barrels a phenomenal 2 million slumber should be on the bucket list for all wine geeks. Although I've tasted as far back as the 1945 vintage with collectors in New York, this was the first time I'd been to the bodega.
The last grapes from this late vintage were still trickling in (see above). The workers to this day bring them in via tall poplar baskets called "comportas." The conical structure means that the wood bears the load and the grapes don't start the crush on the way to the winery.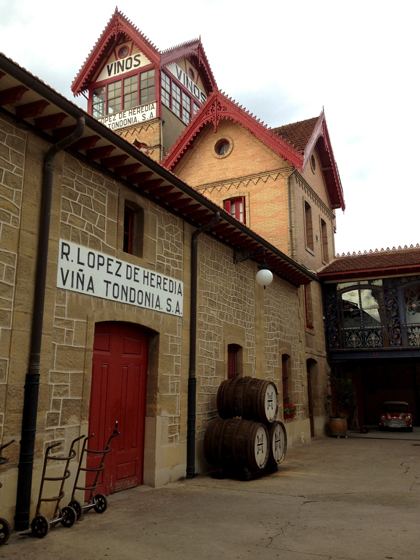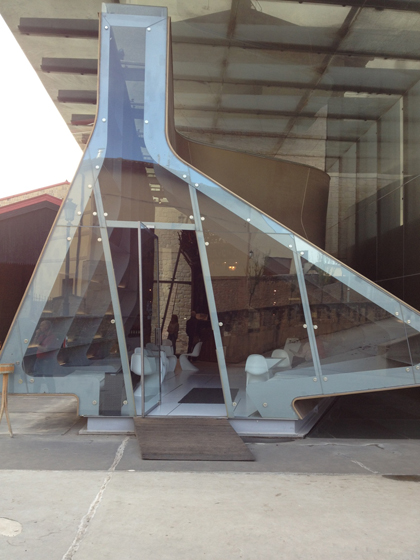 Tasting room and shop designed by Zaha Hadid.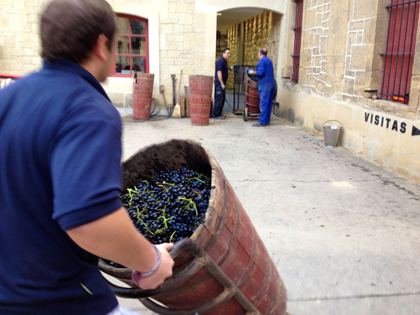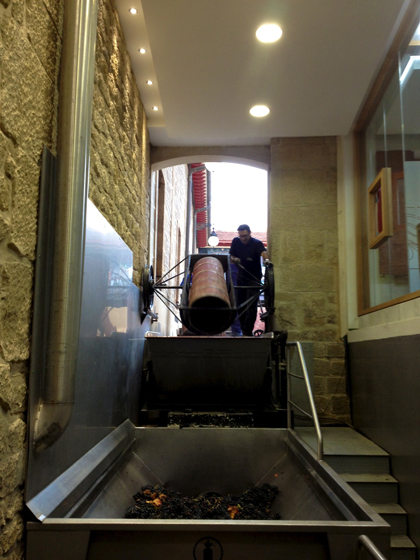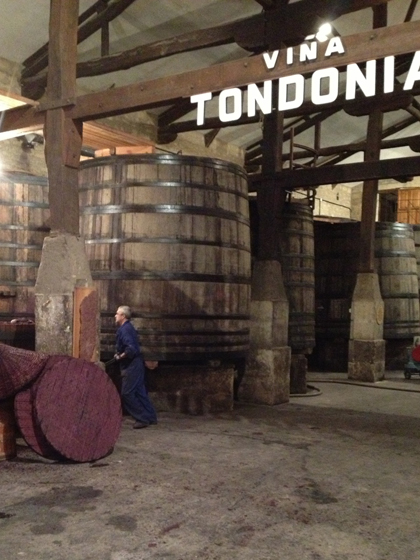 They end up in these enormous fermenters some of which still date from Rafael Lopez de Heredia.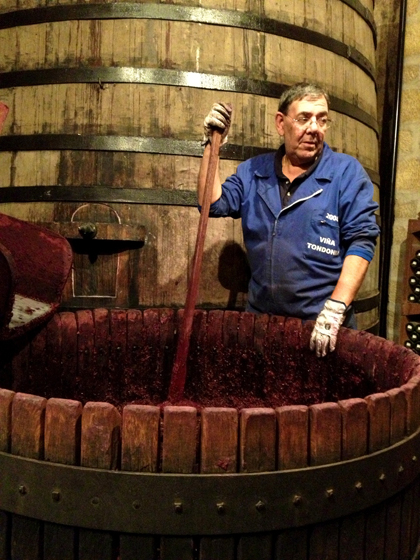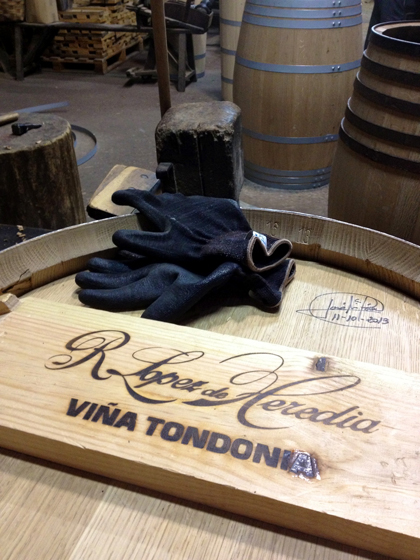 There's also a cooper, or barrel maker. Each barrel bears the signature of the individual maker. She said that her grandfather thought that oak for a wine was like perfume for a woman–to enhance her beauty not cover it. He added that it was a "wrong" wine that the winemaker tried to cover with the new wood flavor.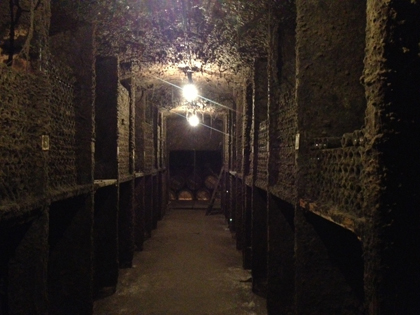 The mold acts like a sponge, Mercedes says, regulating the humidity.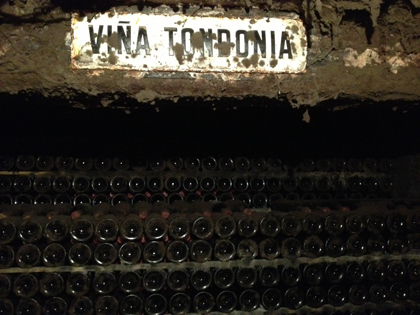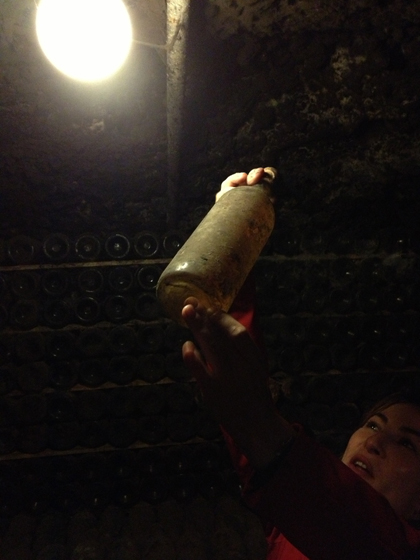 Mercedes momentarily disturbed a 1961 Gran Reserva from its slumber to show us.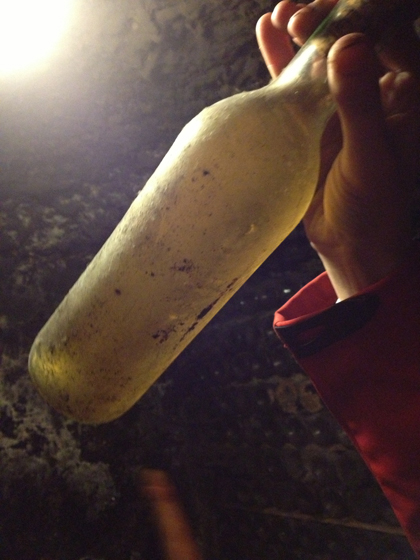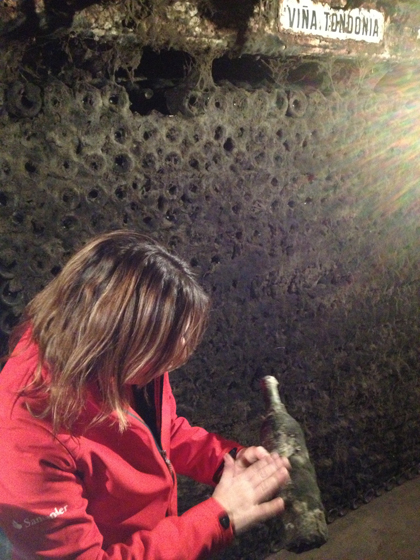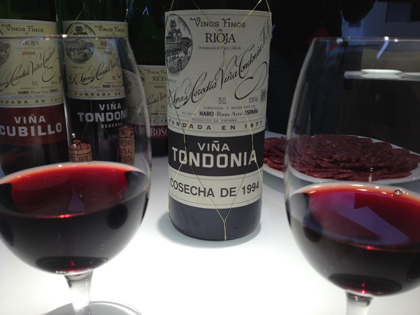 The wines are terrific across the board. But this 1994 gran reserva has incredible poise and delicacy.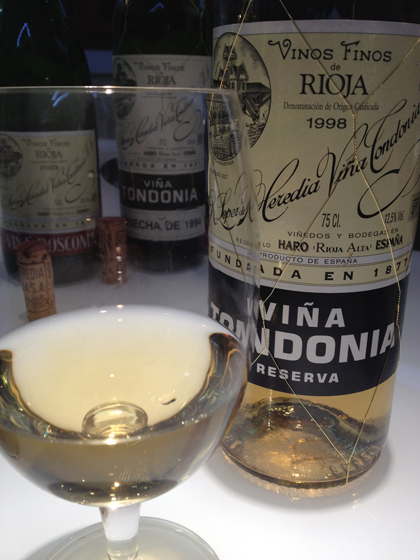 This 1998 reserva was vibrant and had a real brightness to it despite being 15 years young.
We chatted about the rosé/rosado, which only gets produced when the conditions are right. Mercedes said that the wine is a blend of the white viura and garnacha (grenache) and the main catch for the rosado is that the garnacha must be harvested within a day and a half of the viura (which comes in first). This year the garnacha was late in ripening so it missed the start of the viura's fermentation. The next rosado will ne the 2008 vintage, released from the winery in 2016.
Interestingly, Mercedes' father always said that rosado is not a serious wine, an amusing statement since the LdH rosado (along with Tempier and a couple of others) makes a strong case that rosé can actually be a serious wine.