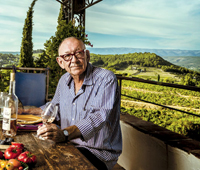 There's an interview with importer Kermit Lynch in yesterday's NYT magazine. It's worth clicking on just to see the view from his deck in Provence–it becomes easy to understand grafting on a career that would take you back there as often as possible!
The interviewer sets Lynch up as the anti-Parker in a lot of ways. Lynch remarks:
I've read so many times that Parker's great secret or invention or whatever — his route to fame and power — was that 100-point scoring system. I always thought it was his writing. He's great at expressing his enthusiasm. You want to feel that way yourself: I want to get all excited!
While Parker's lasting influence definitely will be popularizing points, I agree with Lynch that Parker's notes have conveyed an infectious enthusiasm over the years. In his heyday, Parker could get people revved up about a wine even if a "balls to the walls zinfandel" might not exactly be what they wanted. Today, many tasting notes are precious, fanciful or or merely anodyne addenda that readers skip on their way to skimming scores (if that is their wont). It's hard to write good tasting notes, especially when reviewing a group of wines form the same region or vintage that are broadly similar. And Parker's descriptors were often limited or repetitive. But because notes are fundamentally conveying an opinion rather than fact, Lynch is right to underscore Parker's enthusiasm, which often appears lost today under hints of marzipan and toasty vanilla.