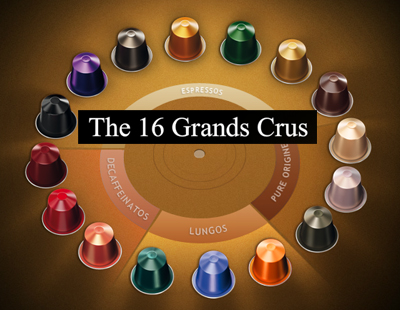 Ah, the power of wine terminology in conveying cachet to food, drink or other luxury products never ceases to amaze. Today's case in point: Nespresso, pre-ground espresso beans encased in tin pods that stay fresh for a decade.
As I wandered out of Grand Central Terminal one day last week, I was accosted by a phalanx of men and women in black suits with white shirts and black ties. I feared for a moment that I had walked on to the set of the latest Men in Black movie and considered taking cover, lest they be in pursuit of aliens. But one garrulous steward trotted over to me and offered me a coffee. Since I rarely refuse coffee in any form offered me before 3 PM, I felt my eyes open wider as I nodded approval. He guided me over to bins containing the colorful pods of Nespresso. The instantaneous, one-touch coffee has been tremendously popular in Europe; if they hung out signs touting sales as McDonald's does, I'm sure it would say "billions brewed."
As a wine geek, the thing that struck me the most was that they bins offered selections from the "16 Grand Crus" of Nespresso. Grand cru, says who? While I have seen the term handwritten on bags of beans at boutique roasters, it seems to more tolerable and chuckleworthy there as the bags tout a single coffee plantation. But the Nespresso pods on display had no visible connection with the place(s) of origin and their "grand crus" simply evoked flavor profiles.
If the Champenois went nuts about the mere rumor of a champagne iPhone, shouldn't a defender of the grand cru system be flipping out over Nestle's brazen marketing?
Oh, and as to the quality of the Nespresso cappuccino itself? While the system may be long (lungo?) on convenience, the quality was more akin to vin de pays than grand cru.
Related: "Sea Smoke declares own vineyards "Grand Cru" on the label"