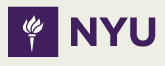 Registration for my fall wine class at NYU is open. It starts on 10/16 and runs six consecutive Wednesdays.
In the class, we survey the wine landscape, discussing they story of wine in several key countries and covering hot-button issues. Each class includes a tasting to highlight points from the discussion. It's a non-credit course without grades, so you don't have to worry about failing a wine class appearing on your transcript!
It's always great to meet site readers in the class–so check it out!